An Interview with Ravi Chopra from ClicksBazaar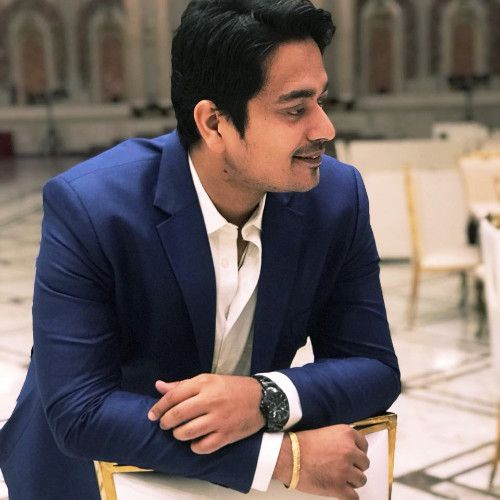 After spending over a decade in the Digital Marketing Industry and working with over 200 brands, many of which are Funded Startups, he wishes to share his learnings with other people who can learn from his mistakes and grow their businesses as well. Today, we are going to interview Ravi and learn from him.
1. How did you start your career? How did you get into the field of digital marketing?
I started with Digital Marketing when I was 16 years old. At the time, my family was going through bad phase and I wished to pitch in with some earnings. At the time, for a young person with a laptop, online industry was the easiest way to make a few bucks. Determined to do something for the family, I started with trying to understand how the online industry works and seeing how to make some money.
At that time I used to be an excellent snooker player and used to play snooker tournaments to make some money for myself, but I soon understood that you cannot scale this as soon as I had to.
Many people commented that the idea of making money online was a little stupid, but I still wanted to give it a try.
This seemed worthwhile as I could invest only INR 500 and start my own venture by simply paying for a domain name and web hosting. I had nothing to lose anyhow so I gave it a try. Now when I reflect back at that small decision of mine, it has worked out very well. Starting from no-where to having clients in multiple countries as of now is a dream come true for a 16 year old with 500 rupees in his pocket.
2. What is your area of specialization in Digital Marketing?
I started my career with SEO as that's one area of Digital Marketing where you can start with a very low Investment. Eventually me and the team became very proficient in the same. With passing time, we experimented with a lot of things, and eventually, I found out that paid media is something that I love doing. It is all about speed and scale, and it reflects the essence/core of digital marketing to a large extent.
Nowadays, I spend all my time in running Paid Media campaigns for my clients, and me and my team use all our combined experience in making sure that each of our clients reaches the goal that they set for themselves. Over the last few years, we have spent millions of USD in paid media for ourselves and our clients combined generating positive ROI. We used a marketing mix for advertising on Google Adwords, Facebook & Instagram Ads to get the best results.
3. What is your No.1 advice for digital marketing agencies to find the right clients?
Never pitch any idea with the intent of closing the client. Take a client onboard only if you are confident about providing value to the person / company / product.
Customers work on the principle of WIIFM ie.. What's in it for Me. They will only buy the product if they think the product is delivering a value more than the cost.
A client is always given value if you can show them that you can open an alternate stream of revenue for them by getting new customers for them.
If the customer is already online, show them the improvements you can do in their existing marketing efforts. Once you do it, very rarely will a person say no to you.
4. How do you find talent and hire them? How do you retain them?
This surely is one of the most difficult parts of running a Digital Marketing Agency. Many people who are coming to take up the job are underskilled and the skilled ones are paid heavily.
Another challenge is that because of the low cost of entry; people who actually learn the art of Digital Marketing end up opening their own agencies, so retention is a difficult task.
I have spent years in devising the so called right process for us and have hired various business coaches to help us streamline the process.
We have a 3 step interview process along with 1 month of training on the process for any employee who joins the company. Every employee is given their KRA on the basis of which they are rated, rewarded and if necessary, penalized.
The ones who perform end up taking a share of the revenue they generated. The ones who don't perform end up either getting retrained or they don't continue for long.
At ClicksBazaar we strive for quality and we know that quality needs training, structure and rewards. We follow the same philosophy in our company.
5. How do you find international clients for your business? How do you find business partners in other countries?
Well for a good Digital Marketer, international boundaries don't really exist. If we can't generate business for ourselves, how will our clients trust us for generating their business.
A lot of our business is referral based as well. Our clients vouch for us. It's really hard to find a digital marketing agency that really performs so whenever a friend / colleague of our clients' need a good agency, we get a call.
Sometimes we also do our own Digital Marketing campaigns however that is a small part of our business.
Regarding finding partners, it really is a slow process. I've known most of my partners for years and they are the people we have been working with since a long time.
Almost all of the partners we have now have more than 15+ years of experience in the industry. They have worked in top positions at fortune 500 companies. So associating with them also provides a lot of value to the company.
6. What do you do to keep yourself updated of the latest changes in the digital marketing field?
Getting your hands dirty is the simplest way to learn anything new. So, whenever any new media source needs to be tested, I personally test it and make it work before passing it on to the team to replicate and scale.
I also attend a lot of conferences of the industry and I frequently connect with people who are of the industry. The latest trends that are up and coming in the industry are not in books. Books that are published only contain tried and tested strategies which work for everyone. Those strategies are learned by hands on experimenting and meeting with people who are dealing with similar challenges.
I am blessed to have some amazing friends from the industry who are always available just a call away. We often organize private masterminds and that is one thing that really helps in keeping myself updated with the new trends.
7. How do you manage multiple businesses at the same time? How do you delegate and keep track of work done by your management team?
Managing multiple business at the same time depends only on how robust and streamlined your processes are. We have clear KRA's and KPI's for every employee of every company (including me).
We have an umbrella structure and have 1 manager for small team sizes of 5-7 people.
We have account managers to manage client communication who are reporting clients on weekly basis or even quicker if required.
We have developed systems to keep the workflow in as much automation as possible. Lately when we scaled, we realized that I was the major bottleneck as most of the clients required direct communication with me. Now we have tried to streamline it in processes keeping my involvement as minimum as possible.
Ultimately, that's the only way to grow.
8. How often do you travel for work? How do you maintain work-life balance?
Well I travel very frequently. Because of work, I have travelled more than I ever imagined. But that's the fun part, when you can explore the world and your work is paying for the travel.
Regarding the work-life balance; I really don't have an answer. Still trying to figure that out.
However when you do what you love, it really doesn't make much of a difference. Both Digital Marketing and Travel are my love.
Luckily my family has been very supportive in my journey.
9. Tell me more about the worst time in your business and how you managed the situation?
For an Entrepreneur, its always a roller coaster ride. When you get early success without completing the learning curve, you are bound to fail.
So 3 years ago, there was an instance when I found a team poaching our clients and that caused severe damage to the company. I fired the particular team but that was not enough and I ended up scraping the whole team and was only left with 1 employee. That was the time we understood the importance of processes. So I fired the team, didn't know what to do.This happened just before my Birthday so I took a break to clear my head. I celebrated my birthday in the meanwhile and afterwards I started all over again with Vikas (the only team member left). With a greater zeal and determination now, we became bigger than ever in just 3 months.
The learning was that you have to complete the learning curve and you must have the right processes in place to really scale the business. Obviously, you need to be really good at what you do and you really need to love what you do.
10. Have you raised money for your business from investors? If not, tell us about how you have managed to bootstrap your company to a team size of 40 people without any external funding.
No. We have never raised any funding for the company. There is no plan to do so in the near time as well.
The secret of being in business and profitable is just to know how to generate ROI in Digital Marketing. If we can do it for ourselves and for our clients, there is no reason one won't grow.
But let me tell you the real secret of our growth. We work on a very strong philosophy – "If we don't DELIVER what we COMMIT, the work is FREE."
Yes, either everyone makes money or no one. Ultimately that's what the client is coming to you for.
Whether its a Branding Campaign, Lead Generation Campaign or an e-Commerce portal; everyone has some goals to be met which may result in either immediate ROI or long term ROI. We understand the goal of the client and keep it at the heart of our campaigns.
I have tried to answer your questions with utmost simplicity possible. If there are any further queries, would love to answer. You can reach me out on Linkedin or Instagram for more.