The Ultimate Guide to Affiliate Marketing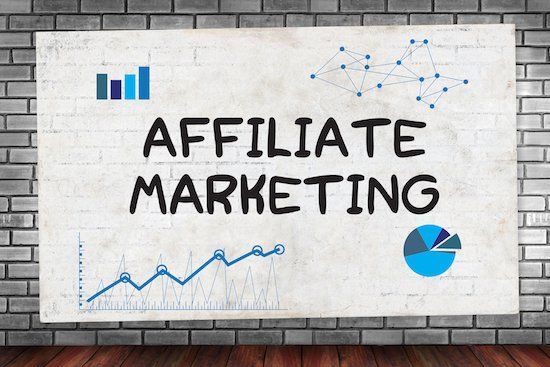 So you have heard about Affiliate Marketing before and wondered how (and how much probably) can you earn from it, all from the comforts of your home? It looks shiny from the outside but trust me, it is as easy as slicing a cake neatly.
In this article, I am going to tell you what is Affiliate Marketing and how it works, what are the existing programs that you can benefit from and how to go about it like a pro. I will also take you through my personal affiliate accounts and show you my real earnings in order to give you some inspiration to get you started (not boasting here).
Let's begin by understanding What is Affiliate Marketing all about and how it actually works.
What is Affiliate Marketing?
Affiliate marketing is a commission based revenue system where a third party (an affiliate) brings leads/sales to a product owner/company website.
It is a process of earning commission by promoting other people's / company's products.
In simpler terms –
You find a product you like,
You promote it to your audience and,
For every sale that is made because of you within your audience, you earn a profit commission from the product owner.
According to Wikipedia,
Affiliate marketing is a type of performance-based marketing in which a business rewards one or more affiliates for each visitor or customer brought by the affiliate's own marketing efforts. The industry has four core players: the merchant (also known as 'retailer' or 'brand'), the network (that contains offers for the affiliate to choose from and also takes care of the payments), the publisher (also known as 'the affiliate'), and the customer.
Lets understand these four core players better:
Merchant
The one who owns the product / the creator of the product. The product can be anything ranging from SaaS applications to physical products (like shoes), it can also be a digital product (like ebooks). So basically, a merchant is someone who is selling a product online. In order to increase his sales online, a merchant is most likely open to get affiliates on his website.
Publisher/Affiliate
The one who takes up the product links from the merchant and promotes it within his own audience to send traffic to the merchant's property (website). He uses different Digital Marketing campaigns and tactics to sell more of the merchant's product and earns commission for doing the same.
Network
A platform or a place where both Merchants and Affiliates co exist, Merchants sign up to list their products in the affiliate program, and Affiliates sign up to find the products they like and enroll in the affiliate program. This network (platform) also settles the payments between merchants and the affiliates in a structured manner.
Customer
The one who makes the purchase on the merchant's property (website) and completes a sale. This is the end customer who doesn't know the relationship between an affiliate and merchant in most of the cases (though it is recommended for affiliates to disclose that they are promoting).
How Does Affiliate Marketing Work?
Let's say you have a website. You are driving traffic from various sources like Facebook Ads, Google Adwords, Organic Traffic because of branding, and there could be many other sources like social media marketing, community engagement, etc.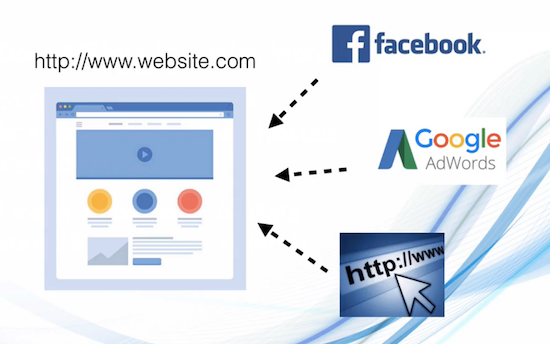 Now there will be a time when you will exhaust the sources to gain more traffic or sales on your websites. More often than not, a digital marketer alone cannot drive all the possible sources of traffic to the website.
This could be due to:
Running out of marketing campaign ideas.
Exhausting different traffic sources to source from.
In this case, what should you do? This is when companies/websites rely on Affiliates to outsource more traffic. You could do revenue sharing with others who have traffic with them and benefit out of that. Now how will you do that?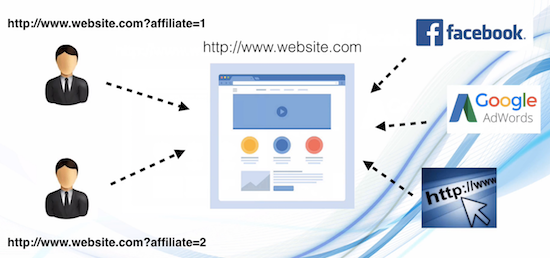 Usually the format for affiliate links looks like this:
www.website.com?affiliate=1 (for say Affiliate #1) and www.website.com?affiliate=2 (for Affiliate #2).
The part after "?" in the URL is called tagging the URL so that the website owner can understand which Affiliate sends him the traffic/sale. Based on this knowledge, the website owner will give commission to the respective affiliate.
Now lets see an example: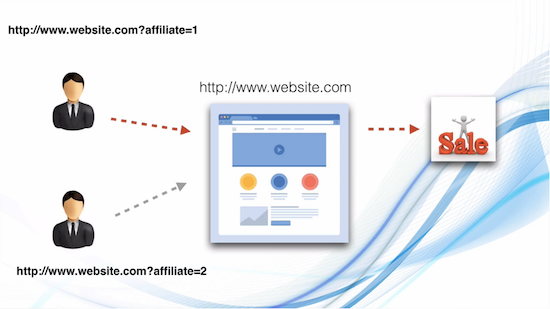 Affiliate 1 and Affiliate 2 both sends traffic to the website www.website.com but the sale was made through Affiliate 1.
The website owner comes to know about this through the link with tag www.website.com?affiliate=1.
So, the affiliate commission is sent to Affiliate 1 because his traffic converted into a sale. It's that simple.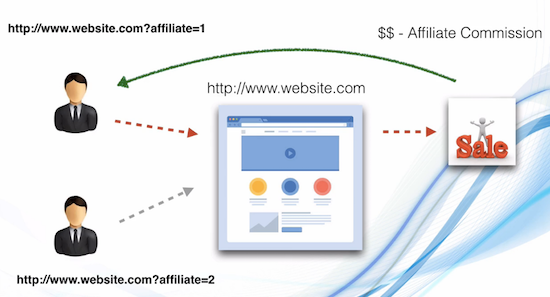 Note that in most cases, Affiliate programs are not based on earnings per click. It is based on earnings per Lead or a Sale.
You will get a clearer idea when I show you the affiliate programs.
How to become an Affiliate? (Affiliate Networks and Programs)
There are four different ways to become an affiliate and start earning from them on a regular basis.
1. Look for Affiliate Links in Homepages
In many SaaS company websites or Product company websites, within the homepage (mostly in footer or Top Navigation Bar in some cases), find the link saying affiliate and click on it to learn more about their internal affiliate program. When you know the products you want to promote, this method makes more sense.
2. Join Affiliate Networks (Commission Junction, Impact Radius, etc)
Affiliate Networks are those platforms who have a lot of merchants and affiliates both registered with them. I have personally had better success with Affiliate Networks because their process is better than individual programs. Within Network, it is easy to manage the affiliate program than have individual affiliate accounts because in affiliate networks, all your payments are consolidated according to different commissions from different merchants.
Some companies have a hidden affiliate program which they do not reveal on their website. But are open to new and qualified affiliates – because who does not want an increased revenue in the end? In this case, just send them an email inquiring about the affiliate program and if not in place, would they be interested to have one in place with you. Opportunities are endless here.
4. Have a well known blog and let people reach out to you (my personal method)
Since DigitalDeepak has become a well known brand among Digital Marketers, a lot of affiliate program owners reach out to me to ask if I can promote their product on my website. This helps me select the right products to promote as an affiliate and saves me time from reaching out to various other websites. Again, this is also what I am planning to use for my SaaS product company OptinChat. I am going to reach out to popular blogs and give them an affiliate link to grow my revenues and share it with them.
TOP Affiliate Networks where you can earn from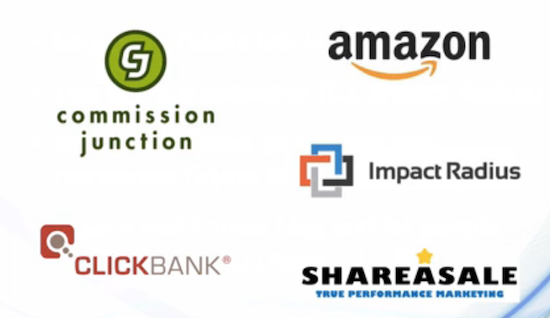 There are a lot of networks available online these days but I suggest these networks to be the best 5:
Commission junction (CJ)
Amazon Associates
Impact Radius
ClickBank
ShareAsale
If you want an India-specific affiliate network, vCommision is a good affiliate network.
There are a lot of affiliate networks that you can search on google and find. When you have narrowed down your list of affiliate networks, go ahead and sign up and complete the process of on-boarding with them including payment info and basic details. Once you get started, you will start seeing your affiliate commissions grow as your audience starts making sales.
The first time I ever got an affiliate commission was through Commission Junction in 2008 – and it was the first time I ever made money using the internet. It was a cheque worth $25. Now a days, these companies send you money directly to your bank account if it is in India. There are a few technical documentations required to get paid in your bank account.
You have to submit a form called W8 BEN Form (so that you can receive money from US to your Indian bank account and comply with tax regulations. All this you will be able to figure out once you sign up for these affiliate programs.
Some Inspiration
Passive income is the best. Every morning when you wake up, you want to see how much you are making passively with just a little effort online.
I am not boasting but I am going to share my real screenshots with you to actually show you the commissions I made using Affiliate in different affiliate programs so that it inspires you to start earning your own commissions.
How I made $2,128 USD (1.37 Lakhs INR) in April 2017 from Commission Junction (CJ)
I have been advertising a few products on CJ and the results have been really decent. Just to add here, I really love CJ's dashboard. I can just click on Advertisers in the top navigation and get a list of products I am promoting.
Clicking on Links gives me a list of links I created and I can create more links there. Anyway, this should be a part of another blog post where I tell you how CJ functions for affiliate marketing.
For this post, let me just click on Reports and show you the numbers: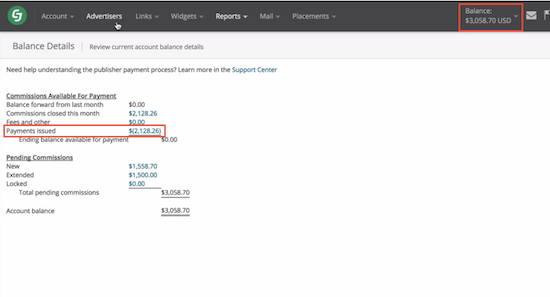 As you can see, the payments issued to me for the last month was $2,128 which has come to my bank account. Also, there is $3058.70 more as balance amount which I will get in next settlement.
Here is the screenshot of amount I received from CJ: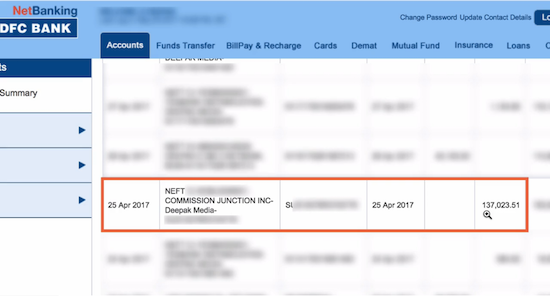 You can see how CJ pays directly to Indian Bank account. This is about it for CJ.
How I made more commissions from Impact Radius and Amazon Associates
Let me show you my Impact Radius Account now: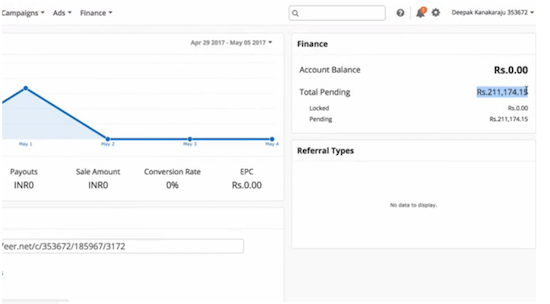 I am relatively new to Impact Radius and yet to get my affiliate balances, but you can see I have made Rs. 211,174 from Impact Radius alone by promoting advertisers there.
Let me now take you inside my Amazon associates account: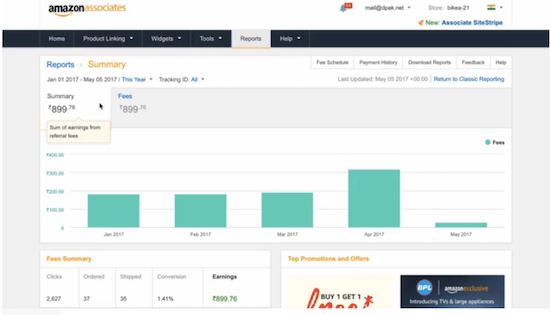 I am not really active on Amazon associates but I have definitely put some links in a few blog posts here and there to earn a little amount from Amazon associates (Amazon's affiliate program).
As you can see in the screenshot, I have earned Rs. 899 last month from Amazon associates India. This is not really good but better than nothing at least. Back in 2010-2011, I was earning close to $12K-13K from Amazon Associates Global as you can see in the screenshot below: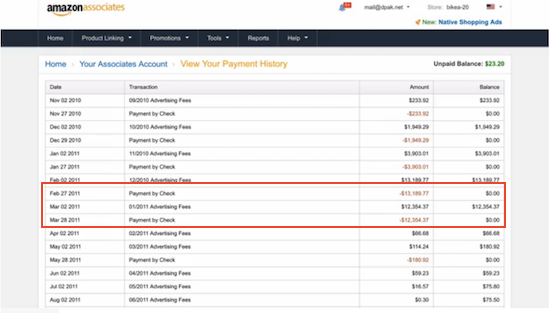 So, you can see how there lies a huge potential in earning commissions from affiliate programs – not just in India but globally.
Internal Affiliate Program: How a review of Drip led to $400+ in affiliate commissions.
Do one thing: go to google.com and search for "Drip.co review".
You will see that my article (review of Drip.co) is ranking on top for this keyword. And when you click on this post and read the article, you will notice that I have placed affiliate link of Drip.co all over the blog article.
So, whenever people search for Drip.co review and land on my article, they click on Sign Up link on my blog (which is an affiliate link) and I earn commission for every sign up that goes from my blog to Drip.co. Note that I get 30% commission whenever someone becomes a Paid Customer of Drip.co from my blog post.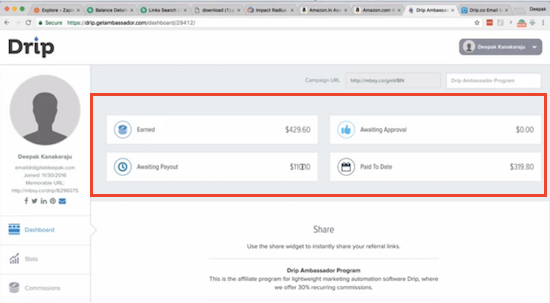 As you can see in the screenshot, Drip uses an affiliate program management software called Get Ambassador which is helpful to manage internal affiliate programs for the product owners. I am planning to use this for OptinChat as well.
Moving ahead, you can see I have earned $429.60 last month and $110 is yet to be processed.
Last month, I was paid out $319.80 from Drip.co in their internal affiliate program. To do this yourself, you have to reach out to websites as inquire about their internal affiliate programs and then get approved for the same.
Next Action Steps for you:
1. Look for the top affiliate programs and networks and join them
This requires a process of Signing up and adhering to some technical policies by uploading some forms. The approval process might be tricky and will be based on how good your online record is. If you are a well known blogger, this will be a piece of cake. Make sure you are being compliant to all the steps required in the signing up process by the network.
2. Start a niche website to get approvals in place (email a request for approval)
Most of the times affiliate networks do not give approval because of a lot of fraudulent activities happening these days. People try to sign up using their own affiliate links and sometimes send fraudulent orders as well. So, to get approval, you need to have a good reputation and following.
Otherwise you can email them explaining:
How are you going to promote their products, and
What are the channels you are going to use to promote, etc.
This will make them gain trust in you and your approval will be easy.
It is better to have a niche website (like I have digitaldeepak.com) and show them the funnel for your website to get approval easily.
3. Make your first sale!
After you are approved for a few affiliate programs, go ahead and use all the Digital Marketing efforts to promote your links.
You can learn about Digital Marketing Basics in my free course. 🙂
5 Mistakes to Avoid in Affiliate Marketing
Over Selling: Too much promotion is a bummer, it distracts and irritates your audience. You should rather help people with useful products that is relevant to them and let them buy as per their need.
Sugar Coating: Don't sugar coat around the product too much – be genuine about the products you are promoting. If your customer do not find the product useful as described by you, you can lose your own audience. So, be aware of the words you use.
Too many Products: Avoid selling too many products – choose only those products that will be relevant to your target audience. It takes time to set up a regularly paying affiliate system for yourself but it is fruitful when started small.
No Product Comparisons and Reviews: Make use of your promotion space by including comparison between 2-3 other similar products also in your reviews/promotions. Coming out with product reviews and comparisons and updating them with time will make sense for your audience and will make them buy more of those products from your affiliate link.
No Testing and Tracking of Links: Not testing the flow of your promotions is a bad idea. You don't want a broken flow. Also, never miss out on tracking your affiliate links. It is easy to get separate affiliate links for different pages (or different channels), this will help you in knowing which channel is working the best for you.
Now that you know all about Affiliate Marketing, why wait? Go ahead and try it. Let me know how it works out for you. In case you shall need any help, leave a comment below. And if you liked reading this article, do not forget to share it with those you think it will be helpful for. We can all use some passive income.