How Varun got a 100x Return on Investment with His Facebook Ad Campaigns
Sometimes, it may look like the opportunity with digital marketing is limited. Sometimes we might lose hope that the future doesn't look so bright. Every one of us goes through such situations from time to time.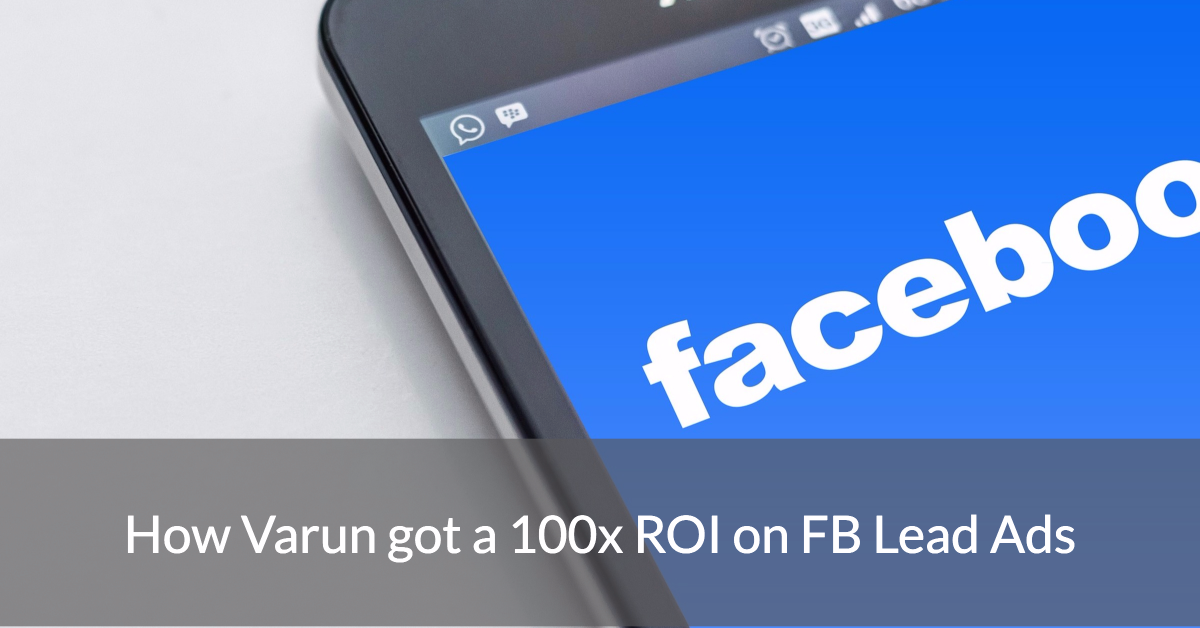 That's when I like learning from other's successes. That's why I love doing case studies which gives us a new perspective on things and helps us re-think the whole digital marketing game.
Today, I want to share a case study that will prove that you can make a profit from online advertising. You will also learn that you do not need a whole lot of capital to get started. The beauty of online advertising like Facebook Ads is that you can get started with a very small budget, test out the market and then scale up only if you are getting a good return on investment.
With traditional advertising, you cannot get started without having a huge capital. You cannot test out a small ad campaign and only show it to 1000 newspaper readers or TV viewers. But digital advertising helps you do that.
Varun runs an Event Management Course called EduWings at Udaipur. He wanted to have more students for his course. So he tried his hands at Facebook Advertising. He was able to get a 100x ROI on his Facebook Ad Spend! Yes, he spent Rs.5,000 on Facebook Ads and got a return of Rs.5,00,000 in revenue. Let's have a look at what Varun did.
The Problem
Before running the campaign outlined in this case study, Varun was seeking a solution to two of his major problems. The leads he was able to generate through social media marketing were lacking in quality. As he was selling a "high ticket offer" – which means each of his sale would bring him Rs.50,000 to 70,000 – he was finding conversions almost impossible through social media.
He knew there was huge potential for his course, but wasn't able to figure out the right strategy with Social Media. He knew that he had to change what he was doing to get better results.
The Action
Varun started doing different things because he knew that he had to make it work. That's when he learned about having the power of a unique concept.
"The definition of insanity is doing the same thing over and over again, but expecting different results". – Albert Einstein
1. Nailing a "Unique Concept" for His Market
Being remarkable and standing out is very important in marketing. Else people are not going to pay attention to you. If you haven't read the book "The Purple Cow" by Seth Godin, I highly recommend that you read it.
With a unique concept and an ad that shows this unique concept, Varun knew that he can stand out and get a higher CTR (click through rate) for his ad.
Varun came up with the Unique Concept "1 lakh/month Event Manager" for his Event Management Course as everyone in his market had the desire to earn 1 lakh/month as an income with the career they choose. He understood his audience's goals and aspirations well and that helped him come up with this concept. Here's the ad that he ran on Facebook.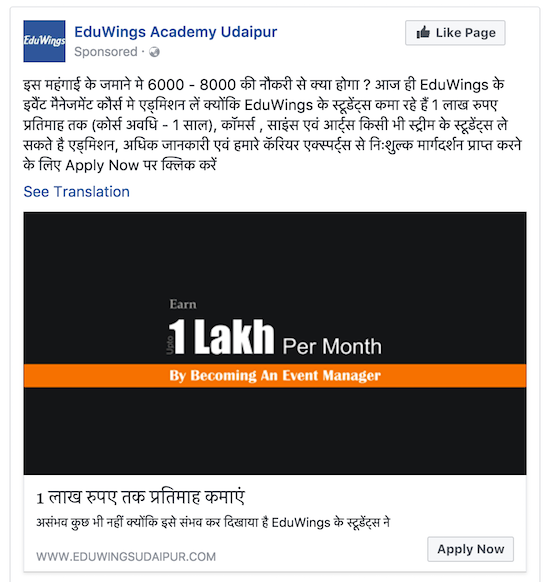 2. Implementing a Simple Strategy
If you understand the needs, goals and aspirations of your end customer, you need not make the sales process complex. All you need to do is communicate to your prospect that you have what they need and you are the best in the market for that.
Varun used a strategy that made sense to his audience who were mainly students from local universities. He used Facebook Lead Ads which helped him to collect contact information without them ever leaving Facebook, nurtured the relationship via WhatsApp and converted close to 10% of the leads into paying customers with a Sales Presentation.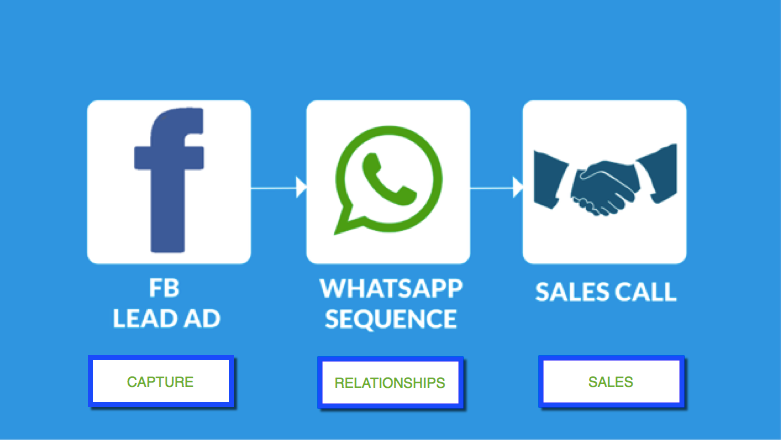 3. Running the Facebook Lead Ads Campaign
Facebook Lead Ads are one of the simplest online ad campaigns you can run online today. Varun added two more fields to the Lead Ad campaign. Apart from collecting name and email ID, he also collected their phone numbers and city.
I think the reason for the success of this ad is how he focuses on an important pain point today's youth faces – to keep earning just INR 6000 – INR 8000/month and how Eduwings can make them earn up to 1 lakh/month for the rest of their life.
Also the targeting played an important role as he was only running his ad for students from local universities and colleges who were also interested in the happening places of Udaipur.
4. WhatsApp Sequence
As the lead is someone who has never heard about Varun or EduWings before, a trusting relationship needs to be developed fast so that they can be converted into an appointment for a Sales Presentation.
With WhatsApp, you can get connected with the lead immediately.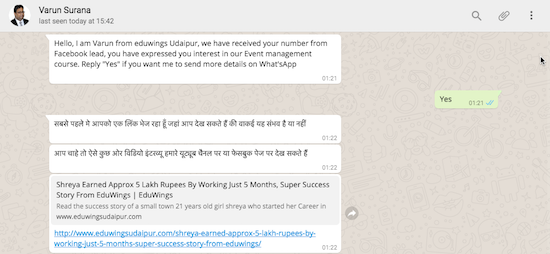 He uses What'sApp to get confirmation from the leads to send them the information they requested. And once they reply yes, he sends them a case study of how one of his students was able to earn 5 lakhs in a span of 5 months.
This builds enormous trust right out of the gate and positions Varun and EduWings as an authority in the market. Then, he sends them the requested information about the Event Management Course. Once they have gone through the information, he answers all of their questions on What'sApp.
He found out that using What'sApp was much better for answering all their queries instantly instead of using emails or a phone call. He saw a pattern that the preferred mode of communication of almost all his leads were What'sApp. This isn't a surprise as that's how we prefer to communicate with our friends as well.
Once there's enough rapport, he invites the lead for a sales presentation at his office. If they are not interested in a sales presentation, he adds them to his broadcast list and keeps sending them more insights about his industry. This way he keeps the leads engaged so that they might opt for his course in the future.
5. The Sales Call & Presentation
Varun's whole Sales Presentation follows a written Sales Script. In the Sales Presentation, Varun asks strategic questions to his leads that helped him to find out their pain points as well as aspirations and positioned his Event Management Course as the only solution in the market which will help them to earn a monthly income of up to 1 lakh/month.
He offered a Fast Action discount to the leads who came through Facebook Ads and it helped him to convert leads into paying customers within 24 hours. This way he didn't have to do the rigorous follow-ups you would usually associate with a sales cycle.
6. The Conversion
With his strategy, Varun is able to get leads at less than INR 35, develop a trusting relationship fast and convert them into paying customers. Varun was able to make a revenue of INR 2.5 lakhs in his first month of implementing this strategy.
And recently, he has surpassed 5 lakhs in revenue with his strategy and the ad spend is close to INR 5000 which is any Entrepreneur's Dream. You can hear it from Varun himself talking about his experience in this video.
Final Words
I think Varun has done an incredible job by using a minimal number of tools while implementing a strategy that's simple and based on sound principles of advertising and marketing.
I hope this case study gives you confidence about online advertising and how with a proper sales funnel you can convert an audience into paying customers.
If you want to know how to implement the strategy step-by-step, sign up for the online workshop here.
You will learn how to write a winning lead ad, targeting your ideal customer, creating and executing a WhatsApp Sequence, Writing a Winning Sales Script and the tools you need to execute the strategy.
If you have any questions, leave a comment below.