YouTube TrueView Video Ads – What are They and How to Setup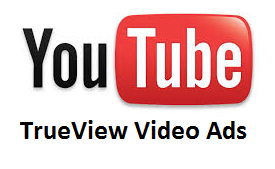 It is a known fact that Google is the No.1 search engine and almost all online businesses either have advertised or know about ads on Google. But there is another big website which people often forget about. YouTube. YouTube is not just the world's No.1 video hosting platform but also the world's No.2 search engine. A lot of people go to YouTube directly and search for video content instead of going to Google.
So I guess it is time to start exploring video marketing on YouTube and YouTube ads. There are different types of ads on YouTube and it may be a little confusing at first, but the very purpose of this article is to bring clarity about the whole YouTube advertising process and possibilities. Mostly the focus of this post is on one type of ad called the TrueView ads.
YouTube advertising can be ineffective and one can get into the trap of treating it as just another website where you put up the ads and bring traffic to your website. But the best use of ad dollars spent in YouTube advertising would be to push video content that is already hosted on YouTube so that it creates a snowball effect. Hence the first step would be:
Step 1: Start with Video Content Marketing on YouTube
Before you start exploring how to setup YouTube ads, my recommendation would be start using YouTube as a video content distribution channel first. Setup a YouTube channel, publish some quality videos on the channel, spread the links through social media and your own website. The types of videos may be customer testimonials of your product or service or a how-to video demonstrating your product in action.
Gather some views, comments and followers. This exercise would give you a lot of insights on what your average audience expects. This information will help you in fine tuning and optimizing your future video ad campaign.
Step 2: Understand YouTube Ad Types and Setup Video Ads
YouTube's TrueView video ad campaigns are targeted towards increasing views/plays for a YouTube video and is also the most effective way to do it. To get started, login into adwords and click on New Campaign. Under New Campaign, select 'Online Video'.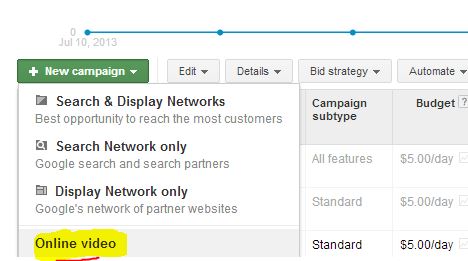 In the next page, give the campaign name, budget, select location and select the language. You can observe that the Ad section is optional but go ahead and select a video from YouTube. Once selected, you will have the following three options for TrueView ad formats:
In-stream

In-display
In-search
1. In-Stream Ads
These In-Stream ads are like pre-roll ads but they appear before, in the middle or in the end of other YouTube videos. After 5 seconds, the viewer has the option to skip the ad and you will not be charged for it. For videos which are 30 seconds or longer (Your video which you are promoting as an ad), you will be charged only when the user views the videos at least for 30 seconds. If your video is less than 30 seconds, you will be charged only when the user completes watching the video.
The following image shows how a TrueView In-stream ad looks like.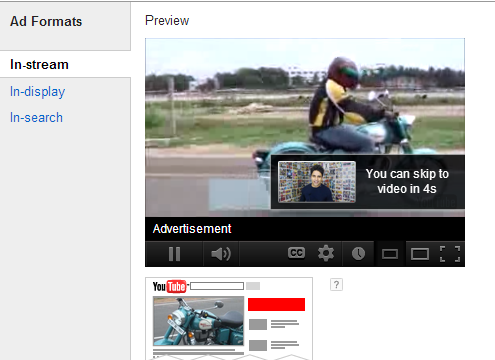 Just like the advantage of Google PPC ads where you are charged only for clicks and not for views, here you will be charged only for people who have taken interest in the video and watched it. Remember that there is no separate option to upload your video creative here. The video ad creative itself should have been uploaded to YouTube before you are setting up the ad campaign.
2. In-display Ads
In-display means that your YouTube video will be promoted via display ads within YouTube as well through other websites who have chosen to display ads from Google. This can appear as an ad on the right side of a video that is being already watched on YouTube or any other web property on the internet where Google Display Network reaches.
Within YouTube, these ads are usually highlighted in yellow. You may have seen such ads already while using YouTube.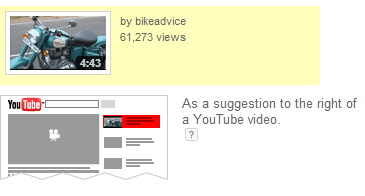 These videos may appear on websites where the website owner has chosen to display video ads. These videos can also play right in the ad banner within a website and the user can complete watching the video within the website itself.
Unlike In-stream ads, you will be charged when the user chooses to watch the video. You will be charged even if the user doesn't view it for 30 seconds. The reason for this is because the users choose to watch your video and they are not interrupted during other videos like In-stream video ads. If your video is engaging, the user will watch the entire video.
3. In-search Ads
These ads are similar to the In-display ads but instead of the ad appearing next to a YouTube video, the ads will appear when people search inside YouTube for specific keywords. The ad will be displayed either as a 640×90 Rectangle on the left half of the page or a 300×70 Small Rectangle on the right half of the page. In the image below, the ad that is highlighted in red is a 640×90 Rectangle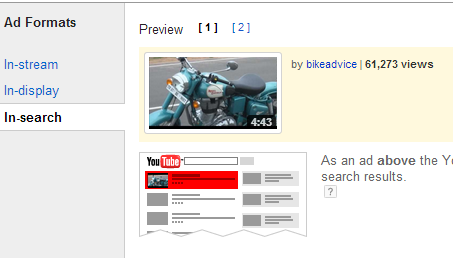 These ads are much similar to the regular PPC ads on Google and in my opinion, this is the best type of TrueView ad because you are targeting people who are looking for you. When people are looking for information in YouTube instead of Google, this is the best way to capture their attention and then convert that prospect into a customer.
Other Types of YouTube Ads
There are some other types of YouTube ads which are less frequently used and only by marketers with high budgets. The conversions may be low with such ads, but it is a huge branding channel and can help in getting the message across, spreading the buzz and creating an impact in the market.
First Watch Ads
As the name suggests, first watch ads are the first ad that YouTube viewers engage in. Right now, YouTube claims that approximately 75 million daily global impressions can be delivered with First Watch ads.
Google :30s
Google :30s are 30 second video ads which will be played in YouTube or in the Google Display Network. With this type of ad, you can access the entire Google video inventory.
YouTube Home Page Ads
The are the big (sometimes really big) banner ads you see on the home page of YouTube. According to YouTube: "Each format is a huge canvas for your brand message. Interactive rich media and social media links give you tremendous user engagement." This ad format comes with standard and expandable options.
According to YouTube the home page ads get high click-through rates, high interaction rates, increased video views, more searches for your brand on YouTube and Google, and more customer visits to your website. These ads cannot be run through adwords. You need to contact a Google sales representative to get this going.
YouTube Mobile Ads
YouTube Mobile ads are the ads that will be displayed in the mobile version of YouTube (m.youtube.com). Google claims that more than 400 million videos are watched on mobile devices every day. If you are looking for maximum brand exposure, this is not something you can afford to miss. YouTube Mobile Ads offers three types of ads as follows:
Road Blocks

Mobile Channel Ads
In-stream ads
This type of ads also cannot be run using adwords. You need to contact a Google sales representative.
Conclusion
I hope you have got a clear idea about YouTube video ads in this article. The success of the video campaign rests on the effectiveness of the video being promoted and it goes back to proven advertising and copy-writing principles. Web videos have made it much easier to communicate complex information to a lot of people in an easy to understand manner… and YouTube is leading the web video revolution. Many digital marketers are missing out on the power of video and it is a great time to make hay while the web video sun is shining.