How to Target Only Mobile Devices in Google AdWords PPC Ads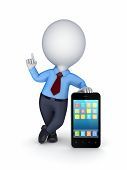 After Google AdWords launched their enhanced campaigns, targeting only mobile devices has become tricky. The way Google has built the new Adwords interface and campaign settings hints that they want you to create universal campaigns which will run in all the devices, without much options for device targeting.
However I want to run the ad only on mobile devices. How do I achieve it? Right now there is no option to setup a campaign only for mobile and there is no option in the campaign settings to turn of computers and tablets completely.
There is an approximate work-around to target only mobile devices in Adwords PPC ads, and this is the method that I use. In the campaign settings you can change the bids for mobile devices, computers and tablets.

If you are running a campaign only for computers and tablets, you can decrease bids for mobile by 100% which would turn of ads in mobile.
But if you want to run only on mobile devices, there is no way to reduce bids for computers and tablets. Instead you can increase bids for mobile by 300%. So if your CPC is Rs.10, it will become Rs.40 for mobile devices.

So if your target CPC is Rs.40, then enter the CPCs as Rs.10 for all the keywords and ad groups. You will end up getting some clicks from computers but you need not worry about it because you are getting those clicks for super low cost anyway!
This is the only way to run a mobile targeted campaign now. I hope Google AdWords will give us options to select device types again in the future.
Separate Campaigns for Mobile and Computers
It is always a good idea to have separate campaigns for mobiles and computers (and tablets with full browsers). This gives you better control over the bids and quality.
In some markets, mobile traffic will have very low quality traffic and in such cases you can choose to decrease mobile bids by 100% which will turn of mobile ads.
Questions? Leave a comment below!