How to Retarget Your Website Visitors on Facebook with Facebook Ads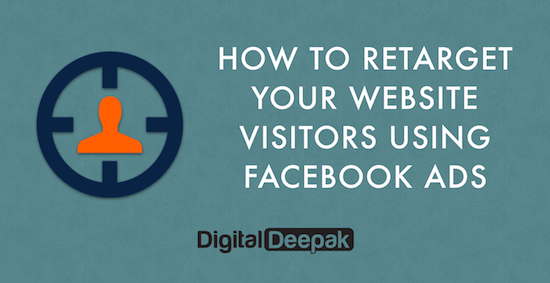 Almost everyone who uses the internet also uses Facebook. And there is a good chance that most of your website visitors also use Facebook. Now we have an opportunity to retarget our website users on Facebook and bring them back to your website.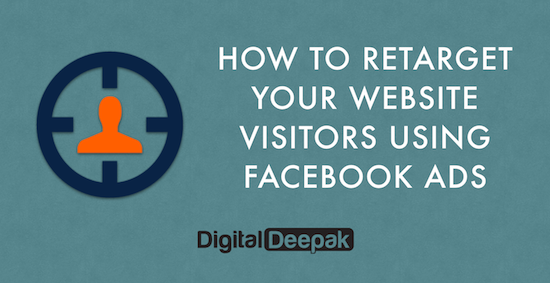 Retargeting with Facebook is easy now. All you need to do is create a website custom audience and insert the Facebook pixel on your website. Read my article about website custom audiences to learn how to do it.
Ideally the Facebook's pixel should fire on all the pages of your website. When it fires on all the pages, Facebook also gathers a lot of data. They keep a tag of the different web pages visited by each user that helps us create advanced custom audiences in the future (explained below).
The best way to include the tracking code would be to add it to Google tag manager or place it along with your Google analytics code in your website's files. And make sure that it loads on all the pages in your website.
Building Your Website Custom Audience
Now Facebook will start building your website custom audience over time. The maximum number of days you can hold this custom audience is 180 days. Users beyond that window start to expire and you cannot target them again.
These are internet users who have visited your website while they were logged-in into Facebook. (Or they have used the same computer to login into Facebook). That's how Facebook is able to tag them.
I have been building my website custom audience for a while now, and you can see that I have 4,400 people in this list.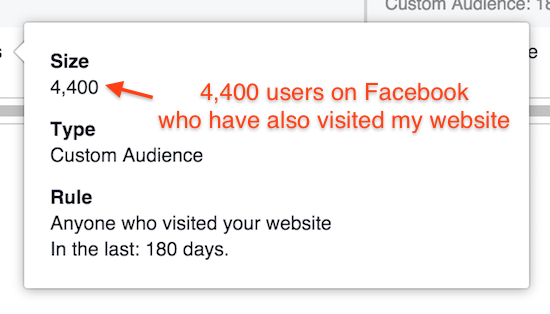 Now whenever you create a new advertising campaign inside Facebook, you have the possibility to target your ad only to this audience. But not just that, you can also boost your page posts to your custom audience:
Sharing Updates to Your Website's Visitors
If you share a link on your Facebook's page, you do not reach everyone who has liked your page. Facebook restricts your reach and you will only reach a small percentage of your audience.
If you want to reach more people, you have to 'boost' your post. That's just another term for converting a link you have shared on your page into an ad inside Facebook.
The problem with people who have 'Liked' the page is that – not all of them are familiar with your brand. And not all of them have visited your website. People who have visited your website before are far more likely to visit again than your Fans or Likers.
So now when I boost my posts, I am targeting only the people who have visited my website before. They are already familiar with my brand, and they are more likely to click on the link and visit my website. I proved that this method of boosting a post was more effective with some experiments.
Here's the result of a recent post that I boosted on my Facebook page. The results are much better than promoting it to my page 'Likers'. More engagement, more clicks and more responses. I also got 8 page likes from this campaign apart from getting traffic to my website.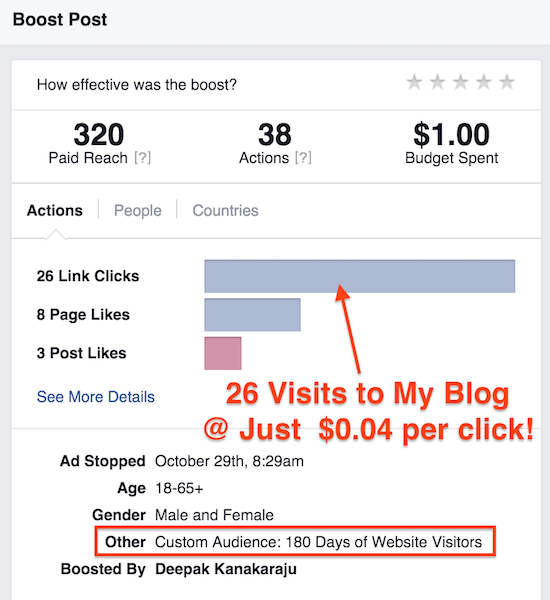 For a blogger like me, broad targeting is fine and getting visits back to my blog is all I need. But there are a lot more possibilities with website custom audiences.
Advanced Audiences with Custom Combination
You can create multiple rules to target the right people on Facebook. For example, if 4,400 number of people have visited your sales page you can target them with a unique ad.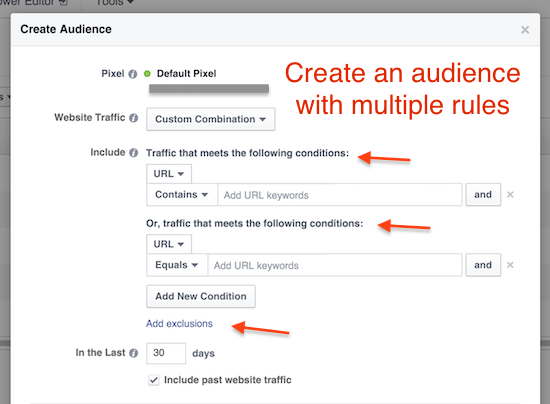 You can also exclude the people who have already bought that product from you so that you don't waste ad dollars on trying to sell something that is already sold.
There are other uses of building a website custom audience. With a base set of WCA, you can create a lookalike audience.
Lookalike Audiences
Facebook determines the demographics, behaviour and interests of your website custom audience and extrapolates it to create a similar set of audience.
Unless you are getting thousands of visitors a day, your WCA will not be large enough to run a decent ad campaign on Facebook. That's when lookalike audiences come to the rescue.
With a base set of 4,300 people in my WCA, I created a lookalike audience of 1.3 Million people! And I ran an ad campaign targeting my lookalike audience with some filters applied to interests as well.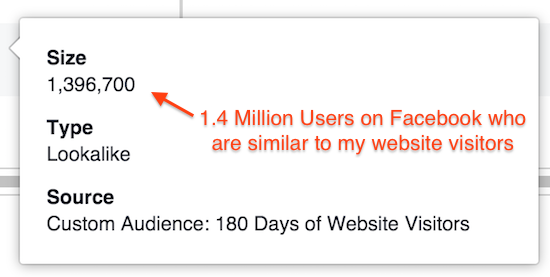 Lookalike audience with specific interests reduced my audience list back to around 100,000 but it gives me laser targeting for my ads, and results in very high conversions on the landing page. This landing page in question has been converting at 60%+ for a while now!
In my next article I will share how to create high converting landing pages for your campaigns.
I hope this post helped you learn how to retarget your website visitors using website custom audiences. Give it a try and let me know how it worked out for you!
Any questions? Leave a comment below!
Regards,

#The Facebook Advertiser