Options to Make Google Adwords Payments in India
If you are using Google AdWords to advertise online, the default payment method for most of the Indian based accounts is credit card. You will be charged every time your account dues become Rs.25,000. If your account is new and if your spending amount is low, you will be charged in smaller cycles.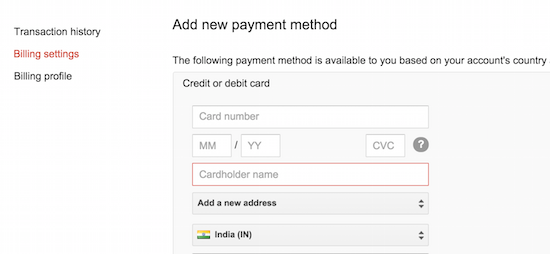 If you add a credit card, Google AdWords will ask for 2 factor authentication. If you are using a VISA credit card, you will have to go through Verified by Visa (VBV) or in the case of MasterCard it will be MasterCard Secure code.
The two factor authentication is mandatory because RBI guidelines require it for transactions happening in India. The good news is that Google AdWords will charge you only Rs.2 when you try to add a new card. This is only for verification purposes. After that there is no need to do two factor authentication every time.
The recurring payments will be automatically charged by Google. As long as your card has sufficient balance, the payments will go through and you will get SMS/Email notification from your bank regarding the transaction.
Netbanking Prepayment
If you feel that paying via credit card is cumbersome and if you want to make payments via NEFT or Netbanking, that's possible! You have to contact Google AdWords support and they will activate your account for prepayment.
So you can pay Rs.1 Lakh up front and run ads until your money runs out. Once your money runs out, they will ask you to prepay another time and you can continue this.
Postpay Invoicing
If you spend a LOT of money in Google AdWords, they will allow you to make payments on a later date. This is postpay invoicing. Usually they will allow you to make payments on NET 60 terms.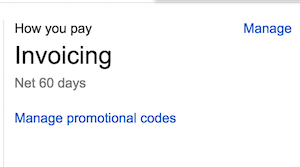 This means that you have 60 days to make the payment once the invoice is generated. This type of payments are allowed only for accounts which spend at least Rs.10 Lakhs in a month.
Remember that for Indian AdWords accounts there is a 14% service tax on online ads. So if you spend Rs.10,000 in clicks, you have to pay Rs.11,400.
Any questions?