How to Get Job Offers in 3 Weeks (Proven Method)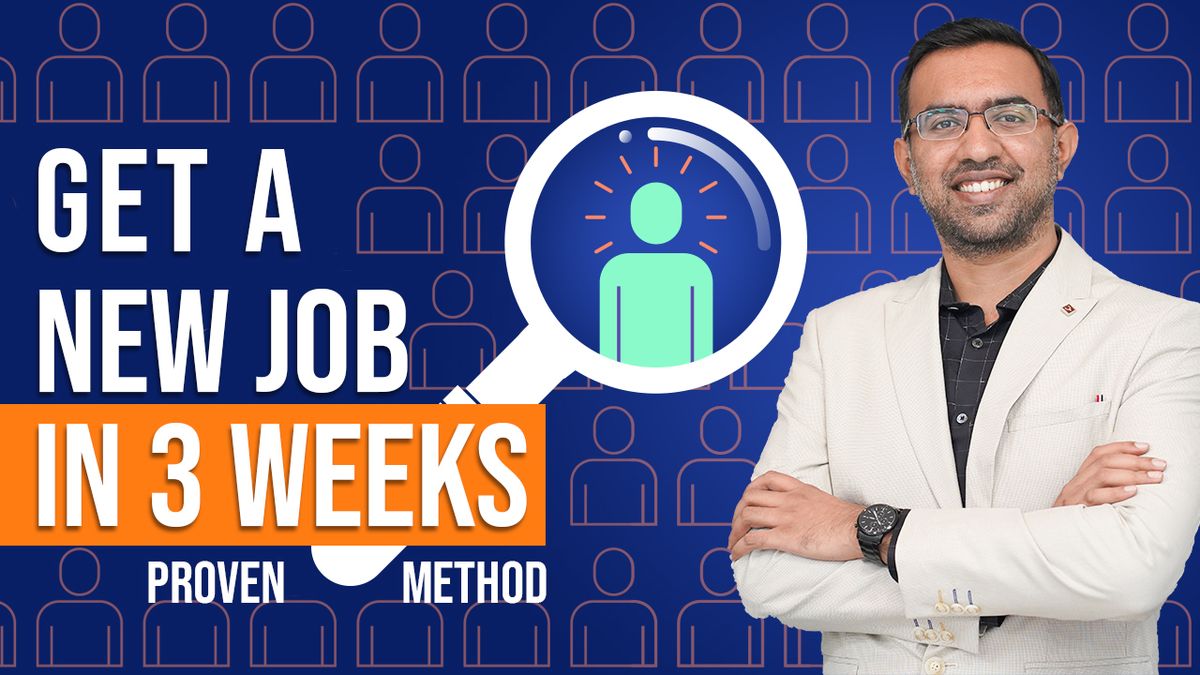 So far in my career as a digital mentor, I have trained more than 12,000 students on digital marketing. They have been through my Digital Marketing Internship program. It's a 12-week intensive training program for people who want to learn digital marketing with a community of students and mentors. (Apply for DDIP here)
After the internship program, some want to become freelancers and most people want a good job that will pay for their skills. Now the question is, how to get job offers? How to reach out to companies and schedule the interviews?
Most people think that their responsibility is just to learn, get a degree or a certificate and a job offer will fall into their lap. That's the lie that we have been made to believe. Engineering, Medical, CA, law, and all the other traditional fields of education just focus on the skills part. But what about marketing yourself and your skills?
If people do not know about you and your skills, you are not going to be bought (as a freelancer, agency, consultant, or employee). Though personal branding helps, it takes years to build a strong personal brand. But that doesn't mean you can't do account-based marketing for your target client (your employer).
If you have not joined a top B-School which is more like a placement center for jobs than up-skilling. Then you better start learning how to sell yourself and your skills.
I have covered all of these topics in my latest video on my YouTube channel.
In a highly competitive environment where supply is more than demand, you are not going to get a job if you do not put yourself out there. This also means that you should get resilient to rejections and not bother if you have to reach out to a lot of people and only a handful of them respond. Remember, it is a numbers game.
The best known will always beat the best and your responsibility is to not just be the best (through learning, experience, and training), but also to become known to your potential employers and clients.
Learning how to sell effectively is without a doubt the most important skill in any business. And you being an employee and offering services to your employer is also a business in itself. So in this article, let's deep dive into the most effective ways for you to become a well-known potential employee within your niche segment.
So how do you sell yourself?
Instead of applying on job sites and waiting for a reply from HR, you make a list of "prospects". These are not prospective customers or clients, but they are prospective employers.
You need to treat all your employers as potential clients because that's what they truly are. You become exclusive to providing services to a single client.
The basic rule of sales is to make an offer that they cannot refuse. People will transact with you only if you make an offer that looks like a great deal for them.
That means, if an employer is hiring you and paying $1000 a month, they need to get at least $2000 in value per month from you that adds to the revenue of the business in the short term and value to the business in the long term.
Step-by-Step Method That Gets Results
Just follow these steps one by one to get the results. These methods have proven to work for our students at Career Kickstarter.
Sarlongki, one of our students got multiple job offers within 3 weeks of doing the program, by following the same methods that I have mentioned in this article.
Step 1: Identify Your Advantage and Skills
Identify what you are really good at based on your inclinations, experience, talent, and past accomplishments. This is the first step to selling yourself or any product for that matter. Position yourself first and the rest will follow. You cannot be someone who claims to do anything for anyone.
Remake your resume based on this. Your resume is not going to help you sell, but it is still a place to gather information all about you. That's where you start. But do not be mistaken that a good resume will help you get a job, it won't. A resume is like the final proposal document that you send to a client if you are a freelancer or an agency.
You might even want to think about making 2-3 versions of your resume if you are targeting different skill sets and jobs requiring those specific skill sets. But it is better to start with one.
For example, you might be good at:
Content writing
Video Editing
SEO
Email Marketing
Sales
What's your best skill out of your list?
Identifying that will give you an idea about how you should be branding and positioning yourself. You should also look at what your passion is and where your natural inclinations lie.
For example, some people are naturally good at design. And some people are naturally good at programming and coding. You need to hone that skill and develop it over a period of time.
If you want to learn more about this, I recommend reading Mastery by Robert Greene. He has been able to come up with plenty of case studies where people who focused on what they were passionate about combined with a need in the market have been able to build a great career for themselves over 2-3 decades.
You want to be doing something that you are passionate about in the long term. But in the short term, you also need to earn enough to sustain yourself so that you have the time and space to improve your skills.
Step 2: Identify Market Demand and Potential Companies
Applying for jobs, just like freelancers and agencies are trying to get clients, is a numbers game. You need to build a funnel for yourself. Most people just apply for a few companies and positions and get dejected when they get rejected.
You cannot take any kind of rejection personally. If someone doesn't reply or thinks you are not a good fit, so what? There are plenty of other opportunities.
Just like finding a partner for life is a numbers game and there is no "soul mate" out there. Don't think there is a "perfect job opportunity" for you out there. There are many jobs and some are more suitable than others.
There is an element of luck also involved in this process, but you need to make yourself lucky by increasing your chances of landing a good opportunity.
As marketers, we generate 1000s of leads, make sales pitches to 100s of people, and expect, maybe, 10 out of them to convert into paying customers. You need to have a similar approach when it comes to finding job opportunities and landing jobs.
Make a list of the top 100 companies that you want to work for in your city. Write down why you want to work for each company. And write about what value you can provide them.
Even if you feel like certain companies are too big and beyond your reach, add them anyway. You will be surprised at what you end up getting. You never know. Trust the system and process, serendipity will happen.
Your sheet should look something like this.

This list of prospective companies is something that you can keep growing even after you land a job because there are always better jobs just around the corner. Once you know the power of this process you will make it a habit to continue with it even after you land an opportunity. Always be selling yourself.
Step 3: Find out the Email IDs of CXOs
There are many tools that will help you find the email IDs of a specific company. All the email IDs under one domain name will be listed for you if you know what tool to use.
Watch my video on Lead Generation to get to know how to use all the tools.
Here are some of the tools that you can use:
GetProspect (Useful for finding real company email IDs from LinkedIn profiles)
Snov.io (Useful for finding email IDs inside a domain name just by visiting a website and using a simple chrome plugin)
FindThatLead (Useful for finding a list of prospects based on title and company category)
If you are targeting medium and large-sized companies, you can also think about approaching other people in the senior management such as V.P. of Marketing or any CXO level people.
Don't try to target HR people. They might not respond to you unless there is an urgent requirement for a very rare skill. The people who really need team members are the managers and founders. HR only does the paperwork.
Step 4: Craft Your Email Copy
The next step is to make sure that you craft very good email copies to send to the people who you have targeted.
You should not send the same mail to everyone. Do not do bulk email as that might be considered spamming.
Remember the sheet we made above? Write a personalized line in the sheet which can be added to the email. That will be unique for each email that you send.
The rest of the email copy can be the same. 80% same, 20% personalized.
For example, here's what your email template will look like:
💡
Hi <CEO Name>,
I just had a look at your <website> and I found 12 different improvements that can be done on the SEO side.
Here's one important tip <SEO tip for them>
Would you be interested in getting a customized report with suggestions for improvement? This would be at no cost.
Looking forward to your reply.
Cheers,
<your name>
Your email copy can be much better, what I have given above is a small sample. But the method is so effective that even if you send a mail like this you are still likely to get good responses.
The CEOs, co-founders, CXOs, and VPs have a much better knack for identifying talent. If they want to hire a candidate, they will just get HR to do the paperwork and will not let HR identify talent and make hiring decisions. I have seen this happen with almost all the companies that I applied to work for.
The overall effectiveness of this method gets amplified when you start building your personal brand. But that's more of a long-term journey. Here, we are just focused on getting you a quick win using these methods.
Step 5: Send Those Emails (at Scale)
Once you have all the emails you cannot upload them into a CRM and shoot the emails. That would be considered spamming and you will probably get your CRM account suspended.
You cannot send each email individually either, because it would take up too much of your time. You need to find something in the middle.
You can use prospecting tools and send out emails from your Gsuite email ID (premium Gmail account with a custom domain name). Premium Gmail accounts support up to 500 emails a day practically (though it claims to support 2000 emails a day).
I use MailShake.com. There are other tools such as Gmass, Lemlist, Woodpecker, and more. All these tools do not have SMTP Email servers. Instead, they connect with your email account and send emails through that. You will be able to see all the sent emails in your sent items folder.
The downside is that you cannot send bulk emails. If you want to send bulk emails, use a CRM like ActiveCampaign or ConvertKit. That's professional email marketing to build your audience. But CRMs are not suited for this purpose.
Prospecting tools are for cold outreach emails. And these tools work well for that purpose. I have explained it in detail in this video.
The best part about this tool is that you can create follow emails if they do not respond. And if they respond, you can pick them out and put them on a CRM-like interface where you can take it forward in different stages such as "first contact made", "meeting scheduled" and so on.
These tools might cost a bit, but it is a good investment. If you can send 200 emails a day that's 6000 emails a month - marketing yourself for a job position. No one will do this, at least most of your competition (other candidates applying for the same job).
Step 6: Schedule Interviews
Interviews might not happen immediately, but they will be in the pipeline. Remember that the people who you are contacting have very busy lives and they might not respond immediately. You need to follow up at least 3-5 times before they respond, and it is better to automate the process.
Most of the people who reply will be skeptical. Try out different emails and see what gets the best response. You will get good responses if you add some value to the email. For example, if you are looking for an SEO job then audit their site for basic SEO, identify issues (most of the sites are not perfect anyway) and let them know.
If you add value even before you ask for something in return, you are more likely to get a response. Get on a zoom call with them by asking for an appointment. Consult them for free. It's like you are on a "free trial". Nothing sells better than free, to get attention. Once you get the attention, you can get the money later.
If you schedule enough interviews you are bound to get one offer, eventually. If your interview to offer rate is 10%, you might need to have the patience to get at least 10 interviews done. Just in case nothing converts, you still end up gaining a lot of experience through the process.
Conclusion
I hope this article and this video helped you get a fresh perspective on how to get job offers land on your lap. Learn how to brand yourself and market yourself. You will be on your way to your dream job.
Though I have tried to cover as much as possible in this article, there are a lot of nuances in every step. That's why we have a program called Career Kickstarter where we help our students step by step by hand-holding them through the entire process.
If you want to make sure you don't miss the next batch of Career Kickstarter, make sure you are subscribed to my emails to stay tuned for the notifications.
All the best.
To your success,
Deepak Kanakaraju