How to Use Facebook Ads to Increase Likes for Your Facebook Page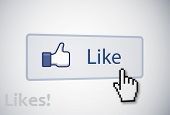 Having more fans in your Facebook Page has a lot of benefits. If you have a blog and your regularly publish posts, you can share it in the fan page and people will discover your new blog post. It will result in getting more likes which helps in SEO – because the search engines pickup these social signals. Having an audience in Facebook also helps you get feedback about your products and services because the entire audience in Facebook is like your focus group.
There are a lot of methods to increase the fans or likes for your page. Some of the most common methods are:
Having a Like box or Like button in your website/blog

Buy Facebook likes from Vendors
Redirecting users to Facebook page from website, YouTube channel, Blog and so on.
Advertise using Facebook ads
Having a Like box or Like button in your website/blog is a straight forward way to get likes and you will get targeted fans to your page. But the problem is that the number of new likes will increase only in a linear fashion – directly proportional to the amount of traffic coming to your website. You can buy fans from vendors but the problem is that they may use unethical tactics to increase your likes and many times those Facebook users are un-targeted and not your real fans.
I believe that if you want to increase your Facebook Page fans very fast – 100, 1,000 or even 10,000 within a short span of time then Facebook ads are the way to go. I have used the following tactic to increase Likes one of my publication's page by 10,000 fans within 1 month and that too at a very low cost – Rs.2 or less per Like.
I would agree that this is not as cheap as the price set by external vendors, but it is far more worth it because these people are really the people looking forward to buy your products or services. You will understand how targeted they are by the end of this article.
How to Use Facebook Ads to Increase Fans / Likes to Your Page
I will give you step by step instructions on how to setup a targeted Facebook Ad campaign to increase fans to your page. Facebook ads can be setup only from a person's account and you need to be associated with a page to setup an ad campaign for that. If you are working for a client, ask the client to add you as an administrator for that page and then use your account to setup the campaign.
Click the settings icon in the top right corner and select Create Advert. In the next page you will have an option to choose the Page for which you want to increase likes.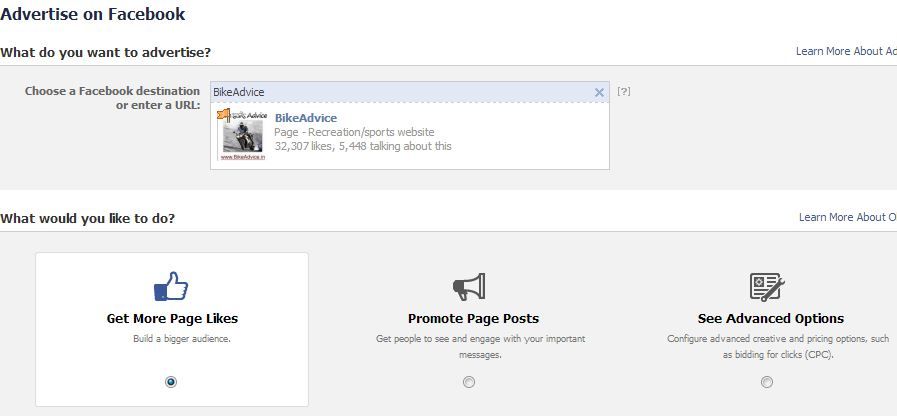 Select the relevant page and select the option – Get More Page Likes (Build a Bigger Audience)
In the next step, enter the headline, ad copy and upload the image which you want to display along with the ad. If you do not upload an image, it will take the default image which you had set for the page.
Advanced Targeting
This is the most important step. There are millions of people in Facebook and if your ad is untargeted, you may end up losing money on your ads because you will advertising to all the wrong people. Showing the ads only to the people who are most likely to become a part of your tribe is an excellent way to get great results on minimal investment.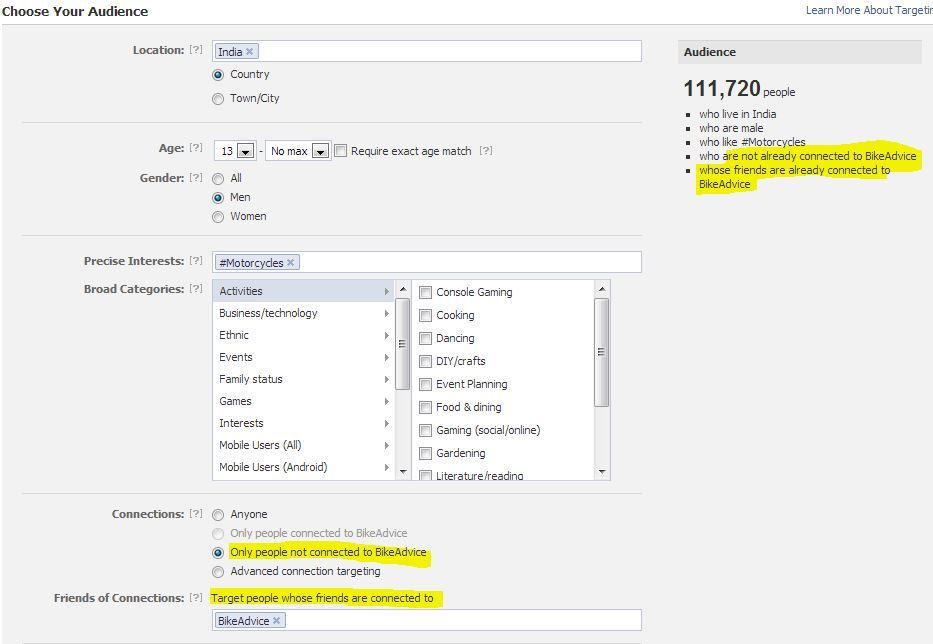 Tips for Targeting the Audience:
Profile your existing customers or tribe members are observe their location, age, gender and in the first 3 steps enter that information. You will notice that the audience size on the side will go down as you refine your targeted. The lower it is, the better the ROI would be provided that you are targeting the right people.

If you observe your audience, you can find out what they are interested in. You can also look at your competitor's web properties and analyze the interests of the people. Target the audience and not just the niche. For example teenagers who are interested in technology like electronics will also be interested in motorcycles. By doing such cross targeting, you can increase your potential tribe size.
In the connections tab, advertise only to people who are not already connected to your page. Since the goal is to increase the likes, we do not want to attract the people who are already connected to us!
This is the most important step: Target only those people whose friends are connected to your page. Chances are that if someone's friend is interested in something, they will also be interested in the same thing. You like sports cars? Your friends are more likely to have the same passion, at least a good % of them! This targeted is one of the best tools available in Facebook ads and helps reduce the cost per like drastically.
Yes, it is Possible
In the following image you can see that I have achieved $0.03 (Rs.1.50!) cost per page like for one of my pages. To safeguard myself from my competitor's prying eyes, I had to blur out some information, but you can have a good idea about my campaign and how its performing. This particular campaign is running with $5 per day budget and yielding good returns for me.

There are a few more tweaks and optimization that can be done to reduce the CPPL (Cost per page like) even more. Playing with the titles and images and split testing it is one such activity where the investment of time and energy always yields good returns.
Hope you got a good idea about the process. Now go and increase the Likes for your Facebook page (or perhaps your client's) with just a few clicks. And leave a comment below if you have any questions.