Digital Vidya vs. Udacity – Digital Marketing Training Course Comparison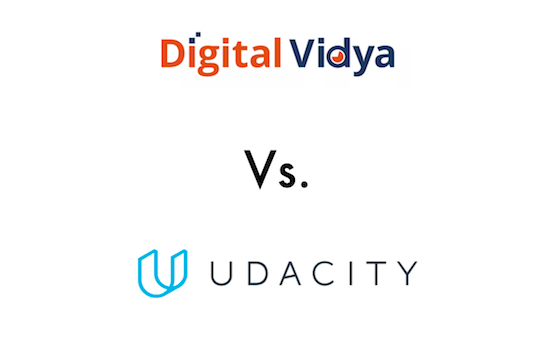 These two online learning platforms (Digital Vidya and Udacity) offer specific Digital Marketing Courses designed for people who want to continue their education and train to perform efficiently in the real world.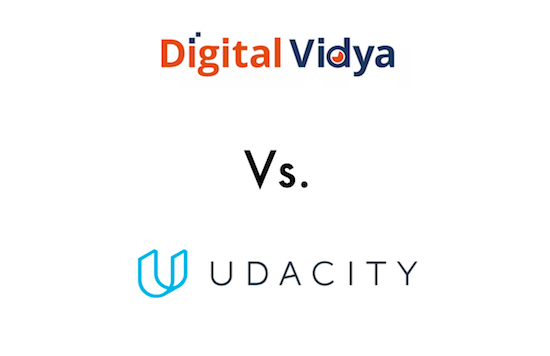 Providing more flexible and accessible ways of learning without compromising quality and content. The courses offer over 200 hours of online training that can be finished in 3 months when studying 10 hours a week.
Through these guidelines, students and professionals can get a general idea of what both the courses have on offer and choose wisely.
DigitalVidya and Udacity are two of the most renowned online platforms in India and the world. They both offer a complete catalog of courses that can help professionals specialize in diverse areas such as Data Analytics, and Digital Marketing amongst a wide array of others.
DigitalVidya and Udacity have their value proposal over the other and provide excellent student experiences. For example, Udacity offers a personalized review experience and real-world experience throughout the course while DigitalVidya provides the possibility of personalizing curriculums by choosing specialization modules besides the core modules. Students can choose according to the specific objectives they have as future digital marketing professionals.
DigitalVidya has trained over 26,500 professionals in more than 50 countries including CXOs from 10.000 brands such as Nokia, Google, Intel, ITC and has participated in more than 1.900 Digital Marketing & Data Analytics training across Asia. But Udacity is by far more extensive; it has had over 160,000 students in more than 190 countries enrolled.
Specifically, on Digital Marketing Courses, they share the idea of distinctively naming their programs. In DigitalVidya's case, the course is a Certified Digital Marketing Master (CDMM), and Nanodegrees is the term used by Udacity.
The following are reviews of each online learning platform. The objective is to show pros on each of the companies online Digital marketing courses to ensure a better comprehension and well-informed choices when searching for this kind of education.
DigitalVidya
Beginning with DigitalVidya, it offers online courses as well as customized training programs for corporations. Co-founded by Kapil Nakra and Pradeep Chopra (its current CEO), it is known as Asia's leading Digital Marketing and Data Analytics training company.
Since 2009, DigitalVidya has been training over 20.000 participants from over 50 countries through more than 1200 online marketing training programs. This variety of courses include Digital Marketing Certification Course, Data Analytics Certification Course, Bog data Hadoop courses and other digital marketing certifications such as web analytics, email marketing, mobile app marketing amongst others.
Digital Vidya's Co-founders have shaped and designed the courses based on their over 17 years of industry experience, which has developed into teaching method that distinguishes from others. People can enroll in a free orientation session and use the DigitalVidya's platform as well as experience the benefits from instructor-led online courses.
Students enrolled in DigitalVidya's Certified Digital Marketing Master (CDMM) receive the opportunity to personalize their professional curriculums by choosing Specialization Modules besides taking the shared Core Modules. Examples of these specialization Modules can be: Integrated Digital marketing strategy, Online Reputation Management, Blogging for Beginners, Super Blogging, amongst many others. The highly comprehensive and practical courses include over 200 hours delivered by industry experts.
DigitalVidya's world-renowned training partners such as Facebook and LinkedIn offer specific certifications after completing online course modules. CDMM students are certified with a Facebook Marketing Master Certification (in association with Facebook) on successful completion of a four-week module. They will also receive a Content marketing certification (in partnership with LinkedIn) on successful completion of a one-week module.
They jointly offer a certification with VSkills which is the largest certification body in India. This certification helps candidates to prove skills in a particular domain which will then be valued by employers.
DigitalVidya provides Free Internet Marketing tools pack that includes a web hosting service, professional SEO software and a social listening tool valued over RS 75.000. These tools are essential in the more than 200 hours of hands-on assignments.
With a 1.099 USD fee, people will get lifetime access and support, exclusive research-based remote internship program and money back guarantee if they are not satisfied with their first online session.
Udacity
Udacity is known for offering world-class accessible, flexible and economic higher education. The company began experimenting with online learning offering the ¨Introduction to Artificial Intelligence¨ course given by the Stanford instructors Sebastian Trun and Peter Norving.
After several years of experimentation, Udacity offers students across the world different online courses and the opportunity to learn and master skills that will accompany them into pursuing employment or entrepreneurship opportunities.
With the aim of offering students real-world digital marketing experience, they have created the Digital Marketing Nano Degree. In this course, people can learn and run actual live campaigns to get their skills ready to enter real-world projects.
Udacity offers the possibility of developing a holistic view of digital marketing by granting access to mentors, peers, and instructors in real time. During the course, learners will be able to build their portfolio from the campaigns and projects developed. This portfolio and the personalized career support they receive are part of the experience Udacity offers to help people transition from the student world into the real world.
With a $999 fee for the Nanodegree, Udacity also has built in partnerships such as Facebook, Google, HootSuite, MailChimp, and Moz that prepare students to have better possibilities as they develop their careers.