Top Digital Marketing Training Courses in Chennai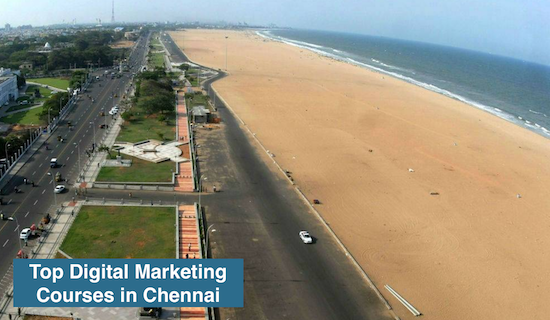 In the last decade, there is an exponential growth in the search for Digital Marketing Training institutes and online Digital Marketing courses in Chennai. The young India is diving in passionately into this industry. Thus, an in-depth and all-round knowledge of digital marketing is of more importance.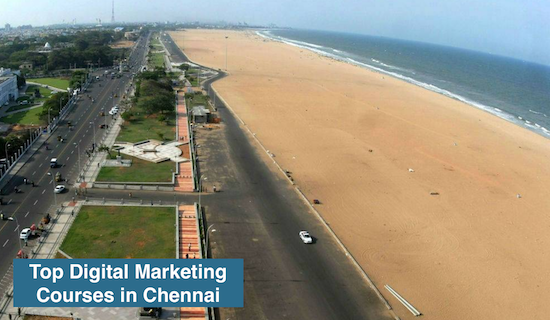 If you want to make a career in this blooming field of Digital Marketing, this is the best time now because the area has only started growing and the demand for experts and new enthusiasts in this field has been higher than ever before.
If you are in Chennai and are looking for a career opportunity in Digital Marketing, here we present a list of some institutes that offer courses in this particular domain.
1. Digital Marketing Courses (DMC)
Digital Marketing Courses (DMC) offers courses as professional training programs of 45 days that help you excel in the field of Online Marketing.
This Chennai based institution offers digital marketing training programs and is sure to help you with the ability to plan, manage and execute internet marketing campaigns.
They offer courses in Digital Marketing Training, Search Engine Optimization (SEO) Training which includes both On-page and off-page optimization, Social Media Optimization (SMO) Training, SEM Training (i.e., ads on Google AdWords, Yahoo, and Bing). They have experts in certain specialized sub-domains like Online Reputation Management, Email Marketing, Affiliate Marketing, etc.
2. Internet Marketing Courses
Internet Marketing Courses run a series of programs like Website Designing, Digital Marketing, IOS, Android, PHP Training and so on. The training is done by the professional industry experts, and a batch dissolves after 30 days.
They supplement their course with a combination of practice sessions as well and assures the students to give an opportunity to get a job after the completion of the course. Their major strength lies in Search Engine Marketing (SEM), Social Media Optimization (SMO), Social Media Marketing (SMM) etc.
3. FITA
IT veterans manage this Chennai based training and Placement Company. They have already helped over 10,000 students to shift their careers into IT and have more than 450+ tie ups with companies. This ensures that their students could potentially be placed after completing their training.
They offer courses like Digital Marketing courses like Web Design Methodologies & Hosting, Search Engine Optimization (SEO), Google AdWords, (SEM), (SMO), (SMM) and Email Marketing.
Besides these basic ones, they offer training in Java and J2EE, Big Data Hadoop, Dot Net, Android, Software Testing, Selenium, QTP, Load Runner, Angular, PHP, Cloud Computing and Sales Force and much more in reasonable price.
4. EchoVME
EchoVME is one of the top places currently from where you can get Free Digital Marketing Course. There are about 20 to 25 videos you can avail anytime and constant updates on latest things on Digital Marketing.
This is a good place to start for people who don't know from where to start echoVME has already reached 30,000 people from across the world who are taking up this course.
They have already tied with companies such as Times Internet, Dainik Bhaskar, Ramco Systems, Genpact, MSL India, Communicate India, Westin Hotel Murugappa Group, TE Connectivity and more.
5. Think It Training
Think It Training trains people in multiple IT related courses. Even after the course is complete, they will give you constant one-year technical support to every student. They also help with placements of students due to their huge tie-ups with over a hundred companies. Currently, the Digital Marketing courses there covers – SEO, SMM, SMO, SEM and Google Analytics training. Besides this, they also offer their students the opportunity to take up the following certifications- Google Analytics, Google AdWords and Certification in Digital Marketing Master (CDMM).
6. SKARtec Digital Marketing Academy
SKARtec Digital Marketing Academy provides generic and personally tailor made courses for a student's particular needs. Their course is completely job oriented, and they also provide career support to their students.
7. Zuan Education
This is a subsidized part of Zuan Technologies which gives all kinds of digital training to students. Their focus is towards industry relevant, and they provide individual attention and placement assistance to each of the students. SEO Training, Social Media Marketing Training, Content Marketing Training and Economic Digital Marketing Training are some of the courses they offer. While course fee for Pay per Click Ad is INR 6000/-, that of Advance Digital Marketing Training is INR 14,000/.
8. E-Search Advisors
E-Search advisors are associated with NIST Institute and has become a leading Digital Marketing training & Corporate Services company.
In Chennai, E-Search offers Diploma in Digital Marketing which is a program suited for everyone including beginners, graduates, marketing professional & entrepreneurs. The diploma covers – Social Media Optimization, Digital Marketing, Website, SEO,& AdWords, Online Reputation Management, Affiliate Marketing and Lead Generation Medium, etc.
9. EduPristine
EduPristine has multiple centers across India and is one of the leading training providers for international certifications in Finance, CPA, and CMA and Analytics like Business Analytics, Big Data, and Hadoop in India. Founded by industry professionals, EduPristine has conducted more than 500,000 man-hours of quality training till date.
Conclusion
An explosive amount of global people have already joined various digital platforms for social as well as professional connectivity. The traditional businesses are also shifting online. All the top IT companies are hiring the dexterous digital marketing professionals and the opportunities are endless. Only an expert digital marketing training can help a business and an individual stand tall in the IT arena.
The main advantage of opting for a digital marketing course is that you get trained by industry experts. Many of these courses help in placement assistance. Thereby, giving you a platform to start your career as a digital marketer.
With thousands of self-proclaimed digital marketers, having a digital marketing certificate places you a notch above the others. Because this means you have been trained by the thought leaders and have hands-on experience of working on live projects.