Top 100 Digital Marketing Agencies in India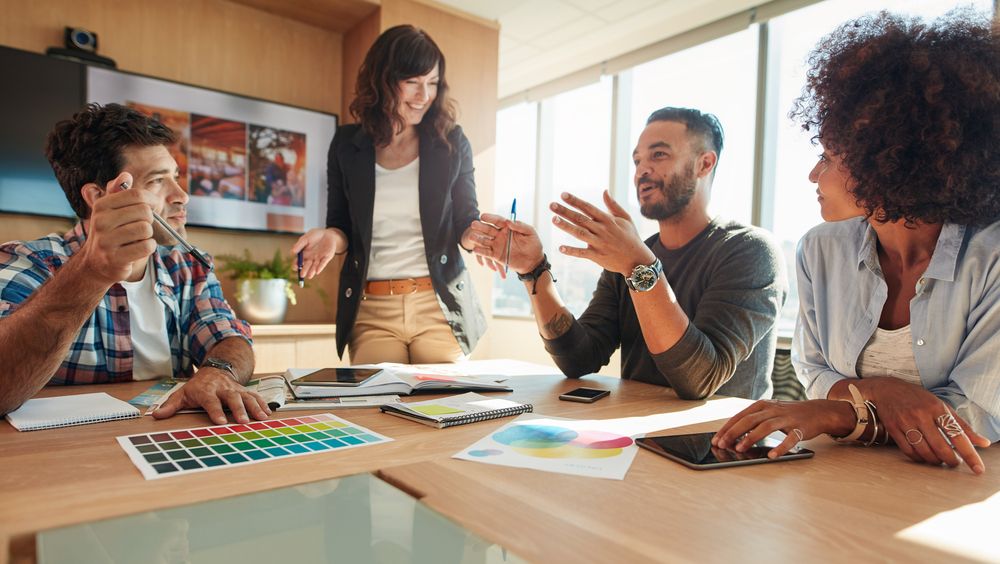 Every company, big or small, has a business account on Facebook at least. If it is a digitally advanced company, it might even have a Twitter handle and LinkedIn profile. Nowadays, it has become absolutely essential to invest in digital marketing to inform your customers about your online presence and enhance your brand visibility.
To make sure that you get marketing right, it is imperative to embrace the most competent digital marketing agency that caters to all your business requirements.
Here, we have discussed the top 100 digital marketing agencies (in no particular order) that would make things easy for you.
1. Dentsu Webchutney (Formerly known as Webchutney)
Founded more than two decades ago, Webchutney has its offices located in Mumbai, Bengaluru, and New Delhi. It has received 300+ industry accolades and immense recognition for remarkable work in the industry. Their employees comprise of 190+ of the most talented professionals. Their clientele includes companies like Microsoft, P & G, Airtel, Unilever, Wipro, Titan, and HDFC to name a few. They offer services like Online Advertising, Website Designing, Mobile Marketing, SEO, Analytics, Application Development, and Social Media. The company has been ranked at the first place amongst digital agencies in India by The Economic Times and Brand Equity.
2. 22feet Tribal WW
22feet Tribal WW works on the principle of doing gutsy work backed by data and instinct. Through this gut feeling, they have grown to 260+ employees spread over three offices in Bengaluru, Mumbai, and Gurugram. It was founded in 2009 with the vision of creating a unique brand experience that paves avenues to innumerable possibilities in the digital world. Their expertise lies in Content Strategy and Planning with Influencer Outreach and Native Content, Web Analytics, Social Analytics, Mobile App Development, CMS Integrations, and User Journey Modeling with Interaction Design. Kingfisher, Levi's, McDonald's, Hero, wework, Uber, and L'oreal are some of the clients served by this agency.
3. AliveNow
A digital creative tech studio, AliveNow was founded in 2009 in Bengaluru. It builds innovative experiences that perfectly amalgamate marketing and technology. The full-service award-winning digital agency has worked with PVR Cinemas, Hard Rock Cafe, Pepsi, Hyundai, California Pizza Kitchen, KIA, Chevrolet, Reliance Trends, and many other established brands and 150+ agencies all over the world. Whether it is fun and immersive AR Filters and Camera Effects, in-app Interactive Games, Messenger Chatbots, Alexa Skills, or customized WhatsApp Stickers, AliveNow can take care of all these requirements. Their work has received extensive press coverage and several accolades.
4. ValueHits
If you want to build effective digital campaigns that help you grow your digital presence, ValueHits is the perfect agency for you. Headquartered in Mumbai, ValueHits was started to keep up with the dynamic marketplace by offering latest digital marketing solutions including SEO, Paid Advertising, Content Writing, White Label Marketing, and Mobile App Marketing. With a powerful team of over 100 employees who have worked for more than 200 clients, this agency has its clientele in UK, US, Canada, Australia, UAE, etc. Irrespective of the company or industry, their services will let you achieve your business goals in terms of traffic, keyword ranking, as well as ROI. BHIM, RuPay, Gandhi Ashram at Sabarmati, movietalkies.com, and Gandhi Heritage Portal are proud clients of ValueHits.
5. Blogworks
Based in New Delhi and Mumbai, Blogworks is a marketing and advertising company that engages with customers through excellent stories powered by digital technologies. They are experts in creative ideation, motion graphics, and video content production. You can bank on them for your website and mobile needs like responsive design, UX and UI design, and mobile and social app development. If you are looking for dynamic display, social media, and search engine marketing, Blogworks is the agency for you. They have worked with Harley-Davidson India, Essar, Fastrack, Marks & Spencer, Sennheiser, and Allen Solly.
6. withStartups
For businesses in fashion or food and beverage industry, withStartups can help you with your marketing strategy, including Facebook and Instagram Advertising, PR and Personal Branding, influencer marketing, and Search Engine Optimization. We stay in the know about the current trends and algorithms to keep you ahead in the marketplace brimming with competition. It is based in Gurugram and has separate teams for every digital channel. Their professionals strive to increase the brand visibility of the clients by looking into acquisition, engagement, and conversions.
7. Osumare Pvt. Ltd.
Osumare Pvt. Ltd., based in Pune, Mumbai, and Nashik has a proven track record of delivering consistent services. It provides services like content marketing, digital marketing, PR, SEO, SEM, SMM, and mobile marketing. In case you want Google Penalty Removal Service, you can get in touch with the experts at Osumare Pvt. Ltd. They also work for political online campaign management, political PR, and social media. Taco Bell, Daikin, NIIT, and Doritos are some of the 450+ happy clients that they have worldwide.
8. CogMat
In 2010, the foundation of CogMat was laid out to meet the need of sustainable online solutions. It is a creative agency that offers a plethora of digital services and customized solutions that yield better business results. You name it and they have it—social media, web development, online reputation management, application development, SEO, and SEM. Reputed companies like Quick Heal, Vijay Sales, Oxemberg, The Oberoi, and Mufti have worked with CogMat and enhanced their brand credibility in the online space. For brands who want to sustain their competitive advantage, CogMat can do the needful for you.
9. Creatlive Studios
A multidisciplinary designerd agency, Creatlive Studios offers brilliant visual and digital marketing strategy that can add value to your business. Search Engine Optimization, Search Engine Marketing, Social Media Branding and Marketing, Content Marketing, Email Marketing, and Influencer Marketing are the brand management services they offer. If you want to get your logo or brochure designed, you can avail their brand design services. They also offer web design and development services with flawless code. Anonym, Dusk Miller, Union Bake, WEJ, and Witty Games are the clients Creatlive Studios has worked for.
10. DDB Mudra Group
With offices in Mumbai, Ahmedabad, Bengaluru, Chennai, New Delhi, Kochi, and Kolkata, DDB Mudra Group is one of the prominent marketing and creative services groups in India. They offer services related to brand strategy, campaign design, digital strategy, media planning and buying, analytics and reporting, experience design, and content marketing. Their approach blends creativity with persuasive storytelling and technology by understanding people, culture, and businesses. The DDB Mudra Group's clientele includes Aircel, BPCL, Castrol, Reebok, Wipro, Zydus, Kalyan Silks, LIC, and Volkswagen to name a few.
11. Digital Latte
Digital Latte has offices located in Mumbai, Hong Kong, China, Taiwan, Europe, Brazil, Japan, and USA. Their specialization lies in building strategies and experiences by executing innovative ideas that can transform businesses. Social media marketing, content marketing, SEO, Google Analytics and Reporting, Digital Media Planning, Digital Strategy Consulting, Video Content Creation, Influencer Campaigns, Print Design, Digital Design, Logo Design, Website and Microsite Development, and ecommerce solutions are the services offered by this agency. They have worked with 160 clients such as Kevin Murphy, Kinetics, Swiss Image, and Clarins.
12. AdGlobal360
With more than 400 digital marketing professionals, AdGlobal360 is one of the largest independent agencies in South East Asia. They have clients in every industry like automobile, BFSI, F&B, government organizations, technology, and travel and tourism. Suzuki, Nexa, Mercedes, Reliance Capital, The Muthoot Group, Nestle, Mars, Rajasthan – The Incredible State of India, Firefox, Greenlam Laminates, Ixigo, Snapdeal, VLCC, and Jabong are some of the 650+ clients they have worked with. They offer a wide range of solutions like digital strategy, website design, UI design, UX design, mobile design, blogging, sales alignment, SEO, product photography etc. With their eTail Commerce and Analytics Solutions, they have brought outstanding results for RB, Nestle, and Coke. They have their offices at eight locations, namely Gurugram, Jaipur, Mumbai, Chennai, Bengaluru, Singapore, Dubai, and USA.
13. Neil Patel Digital India
Neil Patel Digital India offers advanced digital marketing services of SEO, Paid Media, Social Media Management, and Content Marketing. Wall Street Journal, Forbes, and the United Nations have recognized it for the remarkable services they offer. It has six offices worldwide with one of them located in Bengaluru. Viacom, Expedia, Salesforce, NBC, Facebook, Intuit, ebay, and Google are some of the well known clients they have worked with.
14. Avian WE
A prominent communications agency in India, Avian WE designs corporate and brand communications campaigns to facilitate business growth. They work to formulate effective solutions for corporations as well as non-profit bodies according to global guidelines. With their seasoned professionals, they build meaningful visual storytelling campaigns for their clients. They have a deep insight into APAC's political environment that helps them take care of the client's public affairs better. Avian WE has offices located in New Delhi, Pune, Bengaluru, Hyderabad, Chennai, and Mumbai.
15. BlueBit Systems
Based in Haryana and Mumbai, BlueBit Systems empowers brands with their services pertaining to Digital Marketing, SEO, Google Adwords and Facebook Ads campaigns, Google Analytics, Website Development, and Social Media Marketing. They have a huge pool of talent that strives for customer satisfaction and timely project delivery. Clients like CPS, VFORT, decorise.com, Kaya, Park my van, Bruno Boys, Party Princess, and Zoe Ministries have worked with this agency.
16. Brainguru
If you are looking for complete 360° Digital Marketing Solutions for your business, startup or entrepreneurial venture, Brainguru located in Noida is the perfect agency for you. They offer technical SEO services to enhance the profitability of your company and boost the SEO rankings. The digital marketing veterans of this agency also look after the client's social media marketing and Pay Per Click ads. Besides, they offer a plethora of services like mobile app development, web development, eSMS, election management systems, lead management systems, and human resource management to name a few. Their clients include IMS Noida, Oasis, Elite Certifications Pvt. Ltd, Astro Vastu Power etc.
17. Brainwork Technologies
With more than 1400 clients like Nokia, Cheetah Logistics Technology, Holiday Inn, Nestle, Airtel, and Hyundai, Brainwork Technologies can help you build a brand with their custom solutions for multiple platforms like PHP, WordPress, Android, iOS, HTML5, and CSS3. Apart from that, they also offer digital marketing services including SEO, Social Media Optimization, PPC, ebook writing, technical writing, copywriting, and instructional designing. Whether you are from real estate industry, ecommerce, sports, media and entertainment, or food and event, Brainwork Technologies can help you achieve your business goals. They have their offices in New Delhi, Australia, UK, US, Belgium, and Canada.
18. The Brand Saloon
Building an online presence for your brand becomes a cakewalk with The Brand Saloon. Since a decade, they have helped brands in expanding their digital foothold with commendable services and integrated solutions in SEO, SMM, SEM, and Content Writing. They are based in Mumbai and have worked with 1000+ happy clients that includes big names like RedBull, Wonderchef, Ford Figo, PNG Jewellers, DNA and EPuja. Their stellar services have also got them a name as the best digital marketing agency in Mumbai. They have spread their wings across the world with offices in US and Europe.
19. ColorWhistle
ColorWhistle offers professional web design, web development, and digital marketing services. It is a top digital marketing agency that can help you attract a large audience for your business. Their experts keep user experience and conversion rate at the cynosure of their services so that it will serve your purpose. Based on your industry and business needs, they will implement the best strategy that will yield maximum ROI. They are experts in marketing tools and technologies like Salesforce, HubSpot, and Mailchimp. Their offices are located in Coimbatore and USA.
20. BYT Social
A leading web development, social, and digital marketing agency in Chennai, BYT Social provides tailormade solutions for clients according to their budget. They help in executing an effective digital and social media marketing strategy to get better brand visibility. They take a 360-degree approach to Digital Marketing and Web Development so that the clients can yield measurable results. BYT Social has also built and marketed successful Facebook Contests and Apps. If you are an ecommerce website, they can help you with selecting the right technology and developing an impactful website. Reliance Brands Limited, Thangamayil Jewellery, Diva, Zig Wheels, and Wolfpack Outdoors are some of the clients served by this agency.
21. Contract
Since 33 long years, Contract has been building brands and nurturing them. They have worked with Oppo, Godrej Interio, Asian Paints, Shoppers Stop, HSBC, Droom, and Bata. With offices in Mumbai, Delhi, and Bengaluru, they deal with advertising, digital marketing services, business consulting, corporate identity, and retail design. They have bagged several accolades for their noteworthy work throughout the diverse advertising channels.
22. Digicliff
Located in Gurugram, Bengaluru, and Kuala Lumpur, Digicliff assists brands with their digital solutions and services while driving measurable results for them. Whether it is acquiring customers, creating engaging content, expanding the market reach, optimizing the marketing expense, or building a brand, Digicliff can be your one-stop solution. It has been a decade since their inception and they have worked with reputed brands like HCL, Puma, Chumbak, Indian Express, Tally, and Byju's Classes. Although it was simply established with a focus on Digital Marketing Services, it grew to be a pioneer of delivering advanced digital marketing solutions.
23. Digitally Inspired Media
Digitally Inspired Media has completed 7 years of its existence and in this brief duration, they have worked with reputed brands like PVR Cinemas, Naturals Unisex Salon and Spa, Netmeds.com, Cashkaro.com, HDFC Life, and Radisson Blu. They offer services like social media management, Search Engine Optimization, Search Engine Marketing, email marketing, branding and design, web development, app development, landing page creation, as well as video production. Their offices are located in Mumbai and Chennai.
24. Digitas
Digitas offers a pleasant brand experience by working with IoT and wearable tech partners. It is one of the ten global agencies to be able to develop custom experiences with LinkedIn data. If you are looking for community management or social listening tools, Digitas can be an ideal agency for you. Whether you want to identify key influencers and design sustainable advocacy programmes or are looking for experts in strategy, technology, design, UI or UX, and CRM, Digitas has your back. The best part of this agency is that it has offices located all over the world whether it is Asia, Africa, North America, Latin America, Europe, Australia, or Africa.
25.  echoVME
echoVME excels in digital marketing services, corporate blogging, online marketing services, social media marketing services, responsive website development, and digital marketing training for individuals and corporates. They have served clients like Chu Chu TV, Cashkaro.com, Nasscom, The Hindu, and The Times Group. Located in Chennai, echoVME can amp up your search engine rankings, optimize your online campaigns to expand the outreach and get higher ROI, get the attention of your audience with personalized content, and create responsive web designs that render well across all devices and browsers.
26. e-Intelligence
Based in Vadodara, Gujarat, India, e-Intelligence has been rated as the top SEO services agency and the most creative website design company. They offer quality digital marketing and web design services in India, namely web design, SEO, PPC, Social Media Marketing, and Content Marketing. Their clients include Benchmark Cars, Skillzooms, Baroda Realty, BBR Education, FRBO, My Beauty Bazaar, and 7Vachan. If you want to convert something ordinary into innovative, zero in on e-Intelligence and see how your brand engagement soars.
27. ePagemaker
ePagemaker has offices located in Bengaluru, Chennai, Delhi, and Mumbai. Their creative team showcases great strength in Experience Design with core foundation in User Experience. When it comes to strategy, they offer real-world solutions to empower your business. They look after your social media strategy and make sure that you can make the most of it. Furthermore, they also help you with the search engine optimization. ITC, HCL, Tata Tea, Voltas, TVS Scooty, Castrol, House of Gems, Apeejay, and Nilgiris are some of the clients who have worked with ePagemaker.
28. Ethinos
Hypercompetition in the digital marketplace makes it imperative for brands to think out of the box if they want to leave a mark in the online world. Ethinos helps you in standing out with their digital marketing services ranging from social media to mobile and app marketing. They can be your execution partner in search engine marketing, search engine optimization, pay per click, and content marketing. NIIT Technologies, Knight Frank, Wipro, Idea, Kaspersky, Olympus, Kotak, NDTV, HDFC Bank, and Capgemini have availed the services of Ethinos. They are open to working with a range of clients large and small with special expertise in working with B2B sectors.
29. EveryMedia
EveryMedia was founded in 2009 and is among the leading digital media tech companies of India. It has established its place in the top 40 market research and marketing companies by Silicon India. With offices in Mumbai, Kochi, Noida, and Hyderabad, it has dealt with clients like Raymond, Tata Motors, Siemens, Hyundai, Suzlon, Parx, etc. Their expertise lies in digital marketing, movie marketing, online reputation management, content creation, content monetization, social influence marketing, mobile marketing, social influence marketing, celebrity management, digital media planning and buying, and digital PR.
30. Flarepath
Flarepath offers services like social media visioning and planning for business goals, brand building, leadgen, and CRM services. They help businesses in targeting relevant audiences on social platforms such as Facebook and Twitter. Moreover, they also help in creation of original, high-volume videos optimized for platforms like Facebook and YouTube. If you are looking for a digital marketing agency that can help you drive high interactions across mobile and desktop platforms, Flarepath can be the perfect execution partner for you. McDonald's, Airtel, Smirnoff, Sony Music, Zee TV, and MasterChef India are some of the clients of Flarepath.
31. FoxyMoron
Having catered to clients like Foster, L'Oreal, Cadbury Bournville, Neeta Lulla, Always Indian, One Degree Connectivity, Felicity Advantage Marketing, BES, Araaish, Jaltara, and Anita Dongre, FoxyMoron is a leading creative solution provider based in Mumbai, Delhi NCR, and Bengaluru since 2008. They are specialists in social media marketing, video content development and production, search engine optimization, online reputation management, public relations, website development, and strategic planning. They can offer online engagement strategies for your brand irrespective of the industry you belong to.
32. Gecko Worldwide
Gecko Worldwide specializes in digital marketing services, design services, and PR. It is a boutique communications agency with the headquarters in Mumbai. They have a presence in 110 cities all over India, including Ahmedabad, Kolkata, Bengaluru, Hyderabad, and Chennai. In addition, they are also based in Dubai, London, and Sydney. Irrespective of the industry you are from, they have clients from lifestyle, fashion, education, architecture, fitness, commodities, real estate, media, jewelry, and luxury. Alrosa, PNG Jewellers, IDMA, Totempole 2017, Saffron Homes, and Zuver are some of the clients of Gecko Worldwide.
33. Geek Creative Agency
Geek Creative Agency strives to find creative solutions for their clients with the help of strategy and creative technology. Their services cover branding, online PR, developing large scale installations, fresh concepts, content creation, and ecommerce. They believe in optimizing the balance between online and offline media and strive to deliver fresh ideas. If you want to convert your consumers to brand loyalists and evangelists, zero in your search on Geek Creative Agency. They have worked with famous brands like Barbeque Nation, xerox, Wipro, CISCO, Citrix, Cognizant, The Leela Palace, Kingfisher, Budweiser, Pepsi, and Fastrack. Their offices are located in Bengaluru and Delhi.
34. Godot Media
Drive faster business growth with engaging content writing services offered by Godot. They offer content for articles, blogs, product descriptions, and ebooks. Furthermore, they are highly acclaimed for their copywriting and social media marketing in addition to SEO. Their pricing is affordable and they even offer refund if your work has not been initiated in a week after the payment. Companies like Griffin Pest Solutions Inc., Multi-Media Publications Inc., TyreZone, and Original Outlaw Apparel have worked with the dedicated professionals at Godot Media. This agency has a global client footprint in more than 20 countries. Whether you want to enhance your online presence or implement innovative Internet and social media marketing strategies, Godot Media can be a reliable partner for you.
35. Gozoop
Taj, Zee TV, Viacom 18, Godrej Properties, IIFA, Oppo, Tata Steel, Mahindra Rise, and Alienware are the prestigious clients of Gozoop. With offices in Mumbai, Delhi, Bengaluru, Chennai, Dubai, and Singapore, it specializes in social media marketing, mobile marketing, online PR, mobile marketing, and other aspects of Internet marketing. If you are looking for social media optimization, search engine optimization, online reputation management, web design and development, pay per click advertising, or social commerce, Gozoop can be the perfect choice for you.
36. Graffiti Collaborative
Graffiti Collaborative is an independent agency that gives you effective creative communication that can yield ROI and bring you results. Be it design, content, digital or production, the professionals at this soulful agency have nailed it all. Their expertise includes 360 degree communication strategy, customer engagement, digital communication, employer branding, corporate communication, experience design, and brand strategy. Titan, BigBasket, Xcelerator, The Akshaya Patra Foundation, Tata Trusts – Kalike, Indigo XP, Housejoy, Britannia Good Day, 21 North, and Amnesty International India are some of the valuable clients of the agency.
37. RGA Digital
The services by RGA Digital include end-to-end digital marketing solutions that can maximize your ROI. Starting from the market research to strategy planning to design and development, they can provide you professional services in every field. Furthermore, they also offer social media marketing, media buying, and app services to the clients. At RGA Digital, they facilitate effective promotion of the brands with the help of more evolved strategies. For companies who are looking to build their brand's distinct personality, RGA Digital can be your go-to partner. This agency has a team of digital marketers, social media specialists, design professionals, SEO experts, and market researches who can take your business to the next level.
38. Pinstorm
Pinstorm offers services like search engine marketing, search engine optimization, social media marketing, viral advertising, and online reputation management. Their offices are located in Mumbai, Delhi, Bengaluru, Singapore, Kuala Lumpur, Zurich, and Santa Clara. Pinstorm has worked for clients like Accor Hotels, Cafe Coffee Day, Wipro, Godfrey Philips, Cadbury Dairy Milk, and British Council India. It is acclaimed as the world's fastest growing global advertising firms and its bold approach of offering pay-for-performance advertising and digital marketing services.
39. WATConsult
WATConsult specializes in digital marketing and consulting, digital and social content, digital video production, mobile marketing, and digital media planning and buying. The expert professionals at this agency also offer ecommerce consulting, programmatic consulting, online reputation management, and research and consulting. If you are looking forward to creating a seamless experience for your customers, you can avail their website and app development services with AR, VR, and Mixed Reality. They have been awarded numerous awards like Spikes Asia, EPICA Award, and LIA to name a few. Brands like Jockey, Fiama Di Wills, Eureka Forbes, SBI Mutual Fund, Swarovski, Mumbai Indians, Daikin, and Emami have worked with this company. They are based in Mumbai, Delhi, and Bengaluru.
40. Phonethics
Phonethics is a digital agency, social media agency, and mobile app development company. They have specialists in search marketing, social media marketing, customer relationship management, web and app development, content marketing, and mobile marketing.
41. Magnon/TBWA
More than 200 professionals based in Delhi and Mumbai work at Magnon to empower brands with creative digital marketing ideas. Whether it is digital marketing or social media marketing or media planning, you can bank on Magnon for their expertise. They can also help with digital print and video production. It has been more than two decades to their inception and since then, they have worked with some of the finest brands, namely Hyundai, Etihad, Haier, Google, Sony, and Hewlett Packard.
42. Webisdom
Before 13 years, when digital marketing was still in its nascent stage, Amardeep Bajpai started Webisdom. The team includes digital strategists, user experience innovators, visualizers, creative content developers, marketing consultants, app designers, mobile and app developers, and performance marketers. They have served 859 satisfied clients across 8 countries and completed 1800 projects so far. Nissan, Toyota, Honda, Mitsubishi, Pizza Hut, and Nextra are some of the clients of this agency. Their offices are located in Noida, Mumbai, Hyderabad, and Bengaluru.
43. Ignitee (To The New)
For brands who are looking for digital marketing services along with end to end product development services, To The New is the perfect choice for you. They use Agile methodologies to deliver product engineering and digital transformation. Leading brands including Fortune 500 companies and Silicon Valley startups trust this agency with their brand promotions. What's even more intriguing is that Gartner has recognized To The New as one of the top 80 service providers across the globe when it comes to Agile and DevOps Services. They have expert professionals in technologies like Grails, Angular.js, Node.js, and React.
44. iProspect India
With offices located in Delhi, Mumbai, Bengaluru, and Chennai, iProspect India can help you with every aspect of digital marketing. They leverage data, expertise, and technology in order to drive business growth. It is also recommended for businesses who are looking for scalable digital marketing solutions. The expert professionals help the brands to manage their business performance better. Even if you have complex needs, iProspect India will make the whole branding experience seamless for you. They have worked with brands such as Eurostar, IKEA, HDFC Bank, Crisal, Big Bazaar, and GoAir.
45. Lowe Lintas
Lowe Lintas is the creative agency of MullenLowe Lintas Group, India. It is one of the largest agencies that has proved to be of great value to some of the most renowned brands. With the headquarters in Mumbai, it has offices in Ahmedabad, Kolkata, Chennai, Bengaluru, Pune, and New Delhi. Brand strategy, consumer insight, communications planning, multimedia campaign creation and management, creative development, and campaign measurement and ROI are some of the services offered by them. Arrow, Axis Bank, Biba, Brand Factory, Burger King, Cornetto, Daawat, Domex, Fastrack, GoDaddy, Godrej, Khadim's, Knorr, and the list goes on when we are to talk about the clients they have worked with.
46. Propaganda India
Digital Branding, Online Advertising, Social Media Marketing, Email Marketing, Videos, and Youtube Marketing are the services offered by Propaganda India. They strive to impart an engaging brand experience to the end-users through their services. They are based in Bengaluru and have worked with clients like Kara, Koovs, Google, YouTube, Apollo Munich, IBM, and Smytten.
47. MediaZo
A digital media and technology agency located in Gurugram, MediaZo offers strategic consulting and execution of digital or social media plans in line with the business objectives across Marketing, Sales, Customer Support, Collaboration, and other verticals. VLCC, NASSCOM, Lava Mobile, Maruti, Aircel, Samsung Mobiles, NIIT University, and Micromax are some of the clients with whom MediaZo has worked.
48. Grapes Digital
Grapes Digital is an agency that endeavors to create the finest customer experience through their digital marketing services. Since nine years of their inception, they have offered digital marketing services, social media marketing, and SEO. They also provide website development, app development, and customized IoT solutions to brands from the diverse industries. If you want to build a personalized experience for your customers, Grapes Digital can be the perfect choice for you. Alpenliebe, Cream Bell Ice cream, Eicher, AcneStar, Lacoste, Dalda, Ciaz, Ignis, and Videocon are some of the brands they have worked with.
49. Havasworldwide India
Havas is a full-service creative agency that perfectly amalgamates creativity, culture, commerce, and emerging tech to build a seamless brand experience. They have their global presence across more than 100 countries. Their offices are located in Delhi, Mumbai, and Bengaluru. Clients like Nokia, Harpic, Dettol, and SonySix have worked with this creative agency.
50. Hazelknight Media
In addition to social and digital marketing, design and communication, media planning, and technology development, Hazelknight Media also looks after media associations and creation of association opportunities for clients. They offer suitable marketing solutions based on the business needs. Comfort Inn, Sheesha sky lounge, Galaxy, Tasse De The, Tic Tac, and Holiday Inn are some of the brands Hazelknight Media has worked with. Bollywood movies like Pagalpanti, Section 375, Ujda Chaman, Tanhaji, Raid, and Humshakals are the movies who have availed their marketing services. Their office is located in Mumbai.
51. Fulcro
Headquartered in Mumbai, Fulcro is a digital marketing and technology services agency working with brands to create successful campaigns by harnessing the power of technology, creative, and data. It has several dedicated verticals that help with the varied needs of any business. Every vertical has professional teams and leaders to provide flawless services to the brands. Airtel, Panasonic, Rupay, Yatra, Duracell, Bingo, and Croma are the clients Fulcro has catered to. Their office is also located in Gurugram. If you have a huge campaign to undertake, you can bank on Fulcro to deliver the best services.
52. iGenero
iGenero is a creative agency located in Hyderabad, India. Whether it is tech architecture and strategy, business intelligence solutions, product development, or mobile and web engineering, iGenero can provide you with all these services. Besides, they also offer services related to Content Management Systems and Digital Commerce. The best part of this agency is that they work as a cohesive team and offer you exactly according to your preferences. For brands who want to build an effective online presence, iGenero can be your execution partner.
53. Ikf (iKnowledge Factory)
Ikf offers a plethora of digital marketing services, including web designing, web application maintenance, mobile app development, content marketing, video production, and hosting solution. With more than 19 years of digital marketing experience, 900+ brands of client portfolio, 700+ digital strategies, and 450+ website launches to their name, IKF can help you win the digital wars of today and the days to come. Their offices are located in Mumbai and Pune. They have worked with reputed brands such as Carbtools, Exza Infosystems, Callisto, Print My Order, MIT School of Bioengineering Sciences and Research, Praj, and Diva Abaya.
54. Iksula
Iksula offers smart merchandising solutions that can help ecommerce businesses to take their products online with ease and drive faster business growth. Their end-to-end solutions make eRetail operations more effective, thereby cutting down expenses. They also have the feature of Big Data Analytics solutions with the help of which businesses can power their pricing decision and assortment to remarketing and personalization. In this era of cut-throat competition, you are selling experiences rather than a product. Iksula helps you with such Ecommerce Technology Solutions, that will skyrocket sales for you. Their Marketing Operation solutions will enable customer acquisition with data-driven marketing. If you are an ecommerce startup on a shoestring budget, their IT staff augmentation services can reduce the hiring timelines and cost of recruitment.
55. Talkd
Talkd is a creative agency that works for technology companies all over the world. Their clients call them one-stop solution for product, sales, as well as marketing functions. Their remarkable techniques of storytelling, design thinking, and lead farming helps brands to yield greater ROI. They operate on three specialized and interconnected business units – TalkdAgency, TalkdLead, and TalkdUX. Every unit offers a set of services especially technology companies. While TalkdAgency takes care of marketing strategies, TalkdLead deals with the science of sales enablement coupled with a unique Lead Farming approach. TalkdUX helps to create dynamic user experiences by taking a human-centric approach.
56. Interactive Avenues
Interactive Avenues, located in Mumbai, Gurugram, Bengaluru, Kolkata, and Chennai is a digital marketing agency that deals with audience-first, end-to-end solutions that aim to unify channel strategies. They deliver effective digital media campaigns and reinvent digital media best practices for the days to come. They take into consideration the internal and external factors that influence a brand's relationship with the audience and the marketplace. Accordingly, they build their strategies that are suitable for diverse business solutions. These comprise of integrated communications strategies, business transformation strategy, and specialized marketing strategies such as influencer marketing and innovation forecasting. Their clients include Amazon Echo, Zivame, Johnson & Johnson, and IDFC.
57. iProspect Communicate2
iProspect Communicate2 uses data, expertise, and technology to impart a personalized experience to the customers, that will ultimately lead to transformative business results. Their services cover each facet of digital marketing and provide the clients with scalable integrated solutions. Even if your business has intricate requirements, iProspect Communicate2 can provide you the most advanced solutions. For any brand looking forward to growing their business with the help of new commerce platforms and elevating the performance of their content across different channels, this agency can work wonders. They can also help the organization to evolve according to the latest digital economy.
58. iQuanti
iQuanti has a team of digital marketing professionals who are focused on delivering unmatched results for Fortune 500 companies. They cater to every business need, ranging from demand generation to data analytics. They strive to create a seamless customer experience by optimizing the campaigns. They delve deeper into data and analytics to formulate customer acquisition strategies that work the best. Powered by the latest marketing technology stack, they ensure digital marketing transformation for clients. Amalgamation of technology-enabled data analytics and business savvy marketing is the key to maximize ROI generation for brands. Citi, LG, BBVA, vineyard vines, Chase, WebsterBank, and Purepoint Financial are some of the clients of iQuanti.
59. IT Chimes
IT Chimes offers services related to web development, mobile app, and technology, which includes portal development, ecommerce development, WordPress development, app development in iOS, Android, and Xamarin. A huge range of IT services like .NET solutions, Java, PHP, Cloud, Mobile, and Database are also covered by the experts at IT Chimes. PicNut, Sass Factory, Quickbiz, Queens Garden Florist, and Northwest Career College are few clients of IT Chimes.
60. Wunderman Thompson
Wunderman Thompson provides professional end-to-end services that propel growth for businesses. Innovative communications, connected commerce, consulting, CRM, CX, Data, Health, Mobile, Production & Studios, and Technology Solutions are the services provided by them. They can be your growth partner by being an agency, consultancy, and technology company, all at once. They bring creativity, technology, and data together and help brand be apace with the ever-changing digital world. Their clients include reputed brands like GSK, Unilever, HSBC, IRBIN, Netflix, Shell, and Nestle
61. Kwebmaker
Since more than two decades, Kwebmaker Digital Agency helps brands grow in the digital world of the web, ecommerce, mobile, search, and social media. They have their presence in 5 countries with more than 120 employees across 8 offices. They have worked with 1000+ clients which consists of huge brands like Essar, Tata, Mumbai Indians, HDFC, ICICI Prudential, Rolex, Raymond, Kenneth Cole, SWISStours, Sony, SBI, Mahindra, and Navneet. Whether you are looking for creative marketing ideas or web design and development services, Kwebmaker will put an end to your search.
62. KRDS
With offices across Delhi, Mumbai, Chennai, and Bengaluru, KRDS is an independent social media agency. It was founded in 2008 in Paris and since then, they have expanded from 10 to 140 employees. They also have 7 new offices spread over Europe and Asia. Prestigious brands like Disney, Vodafone, BMW, Ford, IMAX Theatre, Mont Blanc, WWF, Red Chillies Entertainment, and Dharma Productions have worked with this agency. They specialize in social media management, mobile and social sites or applications, Facebook Messenger Bot technology, data and social CRM, and social ads management. Backed by an experience of more than a decade, they have successfully run 2000+ campaigns so far and catered to 350 clients on a global level.
63. Kreata Global
Kreata Global works on the principles of next generation media skills, ground-breaking technology, and exuberant creativity. They strive for innovation and help brands understand consumer behavior with the help of valuable data and research. They are experts in social media marketing, digital advertising, and creating engaging branding content. It has been ten years to their inception and they have worked with numerous Fortune 500 companies and home grown brands from different sectors throughout these years. Clients like Rainbow Milk, Toshiba, Lulu Hypermarket.com, Quanta, and Badr.com have availed services from Kreata Global.
64. Langoor
Achieving business outcomes becomes simpler with Langoor digital marketing agency. If you want to explore the full potential of your brand, Langoor can be the ideal solution for you. They analyze the customer journeys and help to create meaningful experience for the users. They are proficient in building effective websites that are functional as well as visually aesthetic. Apart from online media, they also help in offline marketing like print media and radio. Columbia, intuit, Ford, News Corp, The Body Shop, Epson, Wipro, fabindia, Travel Guru, Australian Catholic University and Biocon are some of the client projects Langoor has worked on. They are globally spread over Mumbai, Ahmedabad, Bengaluru, Hong Kong, Bahrain, Sydney, Dubai, and Singapore.
65. Manhattan Communication
Manhattan Communication, located in Mumbai works as a 360° digital agency dealing with search engine optimization, social media, social listening, media planning and buying, strategy, art and copy, website and mobile analytics, and website and app development. Whether you are looking for out-of-the-box artwork for your brand or content marketing services, Manhattan Communication will put an end to your woes. Durian, Colors Gujarati, Eager Beaver, Rico Home Appliances, EuroKids, Kotak, and Augmont are their clients. You can bank on their expertise as they have been in business since 2008. They also have a new self-service tool Social Gear that can be used to create, connect, and automate your marketing communications.
66. Marconix
Marconix is a sales and marketing outsourcing company that offers flexible channel and direct sales solutions to the top companies who want to expedite their global reach and growth. They also offer solutions to new companies. Whether a company wants to build and manage sales team or offload everyday challenges to yield new revenue growth, Marconix can be the architect and shape your business. They even offer backoffice support and account management services to their clients. Kurlon, Tanishq, Godrej, Murugappa, IDEB, Ogilvy, Britannia, Swiggy, Amazon, Flipkart, ITC Limited, Tata Steel, Panasonic, and Colgate are the big names associated with this agency.
67. Markigence
Markigence, located in New Delhi, is a digital marketing agency, conceived by experts and managed by strategists, with results delivered as a combined effort of both the parties. If you are looking for services related to digital transformation, analytics and strategy, search, and social media, Markigence is the right place for you. Enhance your online visibility by availing the services by the experts at this agency and make a robust business for yourself. Their clients include Ogilvy, Alea, 4S Foods, Virohan Institute, Baltimore, Tresmode, Rau's IAS, ExecuCar, Estilo, Jindal, Italics, Systel, and Taraash to name a few.
68. McCann
With offices located in Africa, Asia Pacific, Europe, Middle East, Latin America, and North America, McCann is a topnotch marketing agency with access to the most effective strategic and creative services that help brands to build better lives for the people by playing a meaningful role. Microsoft, Verizon, Nestle, Cigna, Coca Cola, MasterCard, and L'oreal are the clients who have trusted in McCann and got great results. If you want to build an iconic advertisement for your brand and engage with the customers in their day-to-day lives, experts at McCann can make this dream come true for you.
69. Media Moments
Media Moments provides end-to-end intelligent marketing solutions with the help of a curated four-point approach. They have offices located in Bengaluru, Delhi, and Mumbai. Digital, Social, PR, Creative, and Community are the realms of their services. Brands who want to establish themselves in the Indian market should certainly opt for Media Moments as they have a deep knowledge about this particular target audience. You can find prestigious brands like Van Heusen, Allen Solly, Swatch, Wrogn, One Plus, and Amante in their portfolio.
70. YNG Media
YNG Media helps businesses with digital marketing services, thereby reimagining new opportunities for them. They provide brands with accurate advice and strategy that best suits the business. If a brand is looking for flexible, computable, and highly productive digital marketing services, YNG Media is the safest bet for them. They also facilitate search engine optimization and increase online visibility so that brands can have more footfalls and higher revenue. Visual marketing is no longer a fad and YNG Media also offers display and rich media ads. Furthermore, if you want to invest in video ads and leave a profound impact on your customers, you can avail video marketing services from YNG Media. Lacoste, Ferns N Petals, Zee News, Adidas, Grasim, and Satya Paul are some of the clients YNG Media has worked for.
71. mfinite
mfinite is a Bengaluru-based digital marketing agency with full service Internet and mobile domain experts who offer customized, interactive solutions to their brand partners. They have an end-to-end Internet and mobile suite of services, that range from strategic planning, brand awareness,  customer retention, acquisition, and engagement. Their expert team works on the experience design at one end, to media deployment and campaign analytics at the other. They provide services related to email marketing, mobile marketing, search engine marketing, social media marketing, website development, and creative services.
72. MSL Group
MSL Group is a global public relations and integrated communications partner that offers services like creative thinking and strategic counsel. If you want to pique your customers' interest with engaging campaigns, avail the services provided by MSL Group. They have worked for brands like Alpenliebe, Amstel Light, Vicks, IKEA, American Express, Budweiser, and GSK. With their holistic solutions, they have bagged numerous awards like 2018 Asia Consultancy of the Year by Holmes Report and India Consultancy of Year by Campaign Asia.
73. Neuronimbus
Neuronimbus is a digital marketing agency that enables businesses to define a clear, result-driven strategy with the help of seasoned consultants. They provide strategic guidance as well as help in analyzing consumer trends and incorporating suitable measures. Taking into consideration the business goals and resourced available, they craft the best strategy and also facilitate its execution. McCain Food, Havells, KFC, Whirlpool, Panasonic, and Mother Dairy are the brands who have confided in Neuronimbus and yielded positive results. Their offices are located in Gurugram, Bengaluru, and Australia.
74. Niswey
Niswey offers the entire spectrum of services that comprises of account based marketing, inbound marketing, Martech solutions, and HubSpot management. For B2B IT brands looking for white label marketing services, Niswey has you covered. Their endeavor lies in providing easy to adopt solutions that would enable the marketing, sales, and business cultures. Niswey has been featured as the top agencies of India by Clutch in 2020. They have worked with brands like Benq, Yahoo!, Airtel, Microsoft, Pepsico, Symantec, Hitachi, 99Media, NIIT Technologies, IDC, Sheroes, and many other prestigious companies.
75. Social DNA
Social DNA, located in Hyderabad, is one of the leading performance based digital marketing agencies offering a variety of services, including social media marketing, email marketing, search engine marketing, web designing, creative designing, SEO, online reputation management, and mobile app development. To start with, you can talk to a Social DNA expert and get your free evaluation report. Based on this, you will get expert advice on lead generation and faster business growth. Their works include Talentmandi, estella, TAF, Ramesh Watch Co, Movida, Radisson Blu, and Mahaveer Transports.
76. Odigma
Odigma has a team of certified professionals for YouTube, HubSpot, Google Analytics, Google Adwords, and Google Premier SME partners and Bing Partners. Be it email marketing, search engine marketing, social media marketing, affiliate marketing, or video creation and marketing, Odigma can cater to a plethora of needs that businesses might be having. Reputed brands like Myntra, @Home, MTS, Philips, Gulf, Sony, Spaces, Trendin, Sterling Hospitals, Carat Lane, and Puravankara have worked with this agency. They have their offices in Ahmedabad, Bengaluru, and Mumbai.
77. Ogilvy PR
Ogilvy PR is the perfect marketing agency for brands who want to make a significant difference and stand out in the intense competition of the digital world. It is intriguing to know that David Ogilvy founded this company in the year 1948 and today, they have 132 offices across 83 countries. If you are looking for someone to cater to modern marketing needs, Ogilvy has a pool of enormous talent that can help you out. They strive for perfection and give their best to businesses availing their services. Pizza Hut, Rolls Royce, Fanta, Burger Kind, Unilever, Samsung Mobile, Coca-Cola, Google, Budweiser, and Turkish Airlines are few brands associated with Ogilvy.
78. OMLogic
OMLogic is a digital communications agency that offers marketing services, digital execution, and brand promotion strategies to companies, including SMBs. They enable better digital visibility for brands, thereby fetching higher ranking on Google. They are associated with brands like Voylla, Delhi International Airport, World Food India, Vestige, Vivo, Pogo, HBO, Get Set Go, Jagran Film Festival, Federation of Indian Publishers, and Delhi Poetry Festival. As one of their headlines say, they are based in India but they have customers from all over the world.
79. Orion Digital
Orion Digital is the social media venture of Orion PR, that is a leading Public Relations Agency that has more than two decades of PR experience and expertise. Orion Digital has a team of technical as well as creative support with the help of which they deliver 360 degree marketing solutions for effective customer interaction. Whether you are from the healthcare industry, education, entertainment, luxury products, or hospitality and travel, Orion Digital caters to every segment for their digital marketing needs. On-page and off-page optimization, press release marketing, online reputation management, mobile application development, website development, web application development, online advertising campaign, as well as article posting services are the highlights of this agency.
80. Performetris
Performetris is a pay per result digital agency, based in Bengaluru. They are a small business firm with approximately 100 employees across important metropolitan cities of India. Since 2004, Performetris claims to be a leader in search engine marketing industry.They also provide web design, web development, search engine optimization, and link building services to their clients. They cater to small and large businesses alike and help them build their brand credibility to the maximum potential. Clients like SpiceTaxi.com, Kannada Class, Outsource ContentWriting, Tarpaulins India, and TaxAdvisor India are associated with this agency.
81. Puretech Digital
Puretech Digital is an Internet Marketing Agency, located in Mumbai. They are a young bunch of strategists, marketers, technologists, and communicators. They collaborate with their clients on strategies and tactics that would help them accomplish measurable business results. They have more than 9 Fortune 100 clients and over 46 Fortune 500 clients with a total of 4000 clients. That's a huge number, indeed. The list of their clients includes EY India, TCS, Ezeego1, Tata Power, HDFC Bank, DHFL, and Astrum. Brands rely on them for their digital marketing, creative solutions, content marketing, and technology expertise.
82. Quasar Media
Having catered to brands like Microsoft, Eureka Forbes, Monster.com, Skoda, Sharekhan, Tata Aig, Makemytrip.com, Kotak Group, Tata Indicom, Aviva Life Insurance, and Channel [V], Quasar Media is a full service digital marketing company that offers end-to-end digital marketing solutions. Their specializations include digital advertising, SEM, Mobile marketing, online media planning, SEO, Ecommerce, Web solutions, and web designing. They are a part of the Group M and WPP Agency Network with their headquarters located in Delhi.
83. Rage Communications
Rage Communications is based in Chennai, Mumbai, Sydney, Singapore, and London. They offer ecommerce applications, website design and development, online workflow applications, online marketing, site and server management, search marketing, and web analytics. CavinKare, Soak&Sleep, Thinksoft, Consul, HUETRAP, impressons, National Geographic, and The Closet Label are the clients Rage Communications has worked for. They bring to the table more than 20 years of experience and their global clientele is a testimony of the credible work they have been doing.
84. Ralecon
Ralecon is a digital marketing company from Bengaluru, that provides several digital solutions to clients in different sectors, whether it is a small business or global corporation. Their customized online solutions and web solutions strive to make the businesses thrive and enhance their online visibility. Turning traffic into business is their primary objective. They execute strategies in such a way that companies can find the right customers and make the business stand out, thereby driving real traffic and customers. Ensuring customer satisfaction with innovative solutions is their number one priority. Their happy clients include Indian Institute of Fashion Technology, HDFC Realty, Jindal, Orchids, NBR Group, and BookingKhazana.com.
85. Redcube Digital
Based in Delhi, Redcube Digital is a leading digital agency that has worked with businesses from diverse industry verticals. Yakult, Parfait, Intex, Sony, Sofy, lafemme, Ozone, Chintels, Bueno, Kazo, and fnbindia.in are some of the renowned brands Redcube Digital has worked with. They offer a variety of services that covers social media marketing, online ads with influencer campaigns, digital films, animated videos, SEM, SEO, ecommerce, and mobile app development. They develop apps into different segments like native, hybrid, and web app for businesses.
86. Seven Boats
Seven Boats is one of the leading digital marketing agencies of India, located in Kolkata. They have been in business since 9 years and helped businesses acquire more customers. Clients looking for content strategy, digital marketing, branding, and strategic consulting and training services should surely choose Seven Boats for their needs. Elite Shoe, Keya Seth, i2i Optical, RENE India, Bangur Cement, and Evanie Eco Nest are the brands who have trusted this agency for their business growth. In case you have any white label marketing needs, Seven Boats can be the perfect agency for you.
87. Runtime Solutions
Runtime Solutions helps to build brands that customers can trust. They employ the principles of imagineering, research, and strategy for the creation of powerful brand experiences. They work on 4 steps, namely see, think, imagine, and create. Since their inception in 2010, they have been working hard to bring digital experiences to life with the help of modern-day complex digital landscape. They create and develop brand strategies, products, and services that help in achieving business goals. Tata Motors, FBB, Nick, IIFA, Nokia, StarPlus HD, Wizcraft, Mahindra, Microsoft, Samsung, Hero, Borosil, Monster, Dulux, MTV, Dove, and Office 365 are just a few big names who have worked with Runtime Solutions.
88. Saltmangotree
Saltmangotree is a digital marketing agency that delves deeper into the strengths, challenges, and objectives that a brand wants to achieve. They also work as strategic consultants who offer in-house and agency teams external support and guidance. They work as your extended team, irrespective of the industry you belong to. For small and medium-sized businesses, they offer all the marketing and communication services while the business owners can focus on driving business.
89. Smursh
A digital marketing and advertising company based in Mumbai, Smursh offers a range on online marketing services, that includes SEO, SEM, SMO, and conversation services. They enable brands to manage and build conversations on microblogs and track those conversations. Also, they offer design and development work on digital media under their creatives service for microsite and blogs, ad banners, videos, animations, landing pages, and emails.
90. Social Beat
Social Beat, founded in 2012 is a leading company offering digital marketing solutions. They have their offices in Mumbai, Delhi, Chennai, and Bengaluru. Their team includes young and enthusiastic professionals who believe in delivering creative solutions to their clients. Swiggy, Blue Cross, Dura Ultima, and Dura Roof are some of their clients and their partners are Himalaya, Jaguar, Finolex, Brigade, Tata Mutual Fund, and Malabar Gold & Diamonds to name a few.
91. Yrals
Founded in Mumbai in 2008, Yrals helps build brands by imparting an engaging experience to the customers. They form a topnotch technology development firm with expertise in website and mobile app development. If you are looking for tailormade solutions for your business, Yrals is the perfect choice for you.
92. Techshu
Techshu, based in Mumbai, Delhi, Kolkata, and Chennai, offers 360-degree digital marketing services, namely SEO, PPC, content, social media marketing, email marketing, creative and app development. Whether you are a real estate owner or a steel manufacturer, Techshu will find suitable marketing solutions for you. They have successfully contributed to the success of more than 1000 clients, from one-man startups to MNCs. HP, ABP, Linen Club, SRMB, Greenply, IIHM, and Only Alibaba are some of the clients who can testify the awesomeness of this agency.
93. Bcwebwise
Ranked among the top 25 creative agencies of the world, The company offers digital marketing solutions that include consulting, branding, analytics, media planning, and influencer management. The design of their website would instantly draw your attention and make you appreciate the effort and creative thought they have put into it. (www.bcwebwise.com). Hero, Heinz, Boroplus, DHFL, Maruti Suzuki, Parle, Airtel, Balaji, UTI Bank, Sun Pharma, Unicef, Nutrela, BharatBenz, Mahindra, Park Avenue, Astral Pipes, Merlot, and Kangaroo Kids Education Ltd. are among the renowned clients of this agency.
94. Inkoniq
Based in Bengaluru, Inkoniq takes the help of design thinking, technology, and specialization to deliver a flawless customer experience for mobile, web, as well as IoT. They are experts in sectors like data visualization, media and content strategy, education and e-learning, banking, insurance, and fintech, e-commerce, and enterprise apps. Their clientele consists of SanDisk, Zoom, Perfios, Future Group, Chumbak, NDTC, Lowe's, Nutanix, Olympus, Societe Generale. and Tech Mahindra.
95. PageTraffic
Headquartered in New Delhi, PageTraffic is a digital search engine marketing firm with offices in Mumbai, Noida,Chicago, and London. They execute ethical and customized strategies to make sure that every client can drive the maximum traffic of qualified visitors. They hold the exclusive memberships of W3C, IIMA, Search Marketing Association of North America, and Dunn & Bradstreet. Since 2002, they offer search engine optimization, social media marketing, and content marketing services to varied industries. Their key clients include OLX, Raymonds, HCL, TATA, HolidayIQ, Lastminute, Ramada Hotel, GAIA, EzyQatar, and Kent.
96. White Rivers Media
White Rivers Media offers digital media services, encompassing social media marketing, search engine optimization, video production services, web design and development, search engine marketing, ecommerce solutions, alternate media landscape, martech innovations, programmatic advertising, sequential storytelling, and influencer outreach. They have their offices in Delhi and Mumbai. Businesses who are on a shoestring budget with resource crunch, White Rivers Media (WRM) can be an extension of your marketing team and help you achieve your business objectives.
97. SRV Media
SRV Media, founded in the year 2011 strives to maximize business growth in the dynamic world of digitalization. They have a team of 180 experts who understand your needs and enhance business performance with their calculated strategies. They have their offices located in Pune, Bengaluru, Seattle, and Dubai. The salient features of this agency are their openness to suggestions, great designing skills, and good skill sets. They proudly serve more than 50 clients and the number is still rising.
98. Reprise Digital
Reprise Digital is a media agency that comprises experts with a range of remarkable skills. They offer audience-first, end-to-end solutions that unify channel strategies, creatively breakthrough, and build their heritage of performance. Broadly, their services fall into the categories of strategy, media, creative, product, data, and commerce. Their work includes KFC, Durex, Neutrogena, Canadian Down Syndrome Society, California Lottery, Axe, Mordisko, and Pizza Hut. They have their offices located at several places worldwide with offices in Gurugram, Bengaluru, Kolkata, and Mumbai in India.
99. Envigo
Envigo is not only a digital marketing agency but they can be your digital partners. With offices in Delhi NCR and London, they are a full-service, digital marketing and solution agency that serves local as well as global brands. They design smart marketing campaigns that help brands in diving deep into their customer preferences. Their Google Analytics certified team can work on web analytics audits, custom reports and dashboards, and for Analytics and Tag manager migrations. Besides, they also help in designing and managing ROI-focused paid media campaigns. Hertz, Biba, GSK, Revital, and ebookers.com are a few brands Envigo has worked with.
100. Avignyata Inc.
Avignyata INC., based in Mumbai helps brands in building a social media presence by providing services related to social media research and monitoring, web influence, social network profiling, Facebook and Twitter Campaign, Social Multimedia Marketing, Social Conversation Marketing, Blog Marketing Strategy, and Social Content Creation and Marketing. Since 13 years of their inception, they have served several brands with services related to designing, strategy, and website or mobile app development.
I am sure this comprehensive list of 100 digital agencies will prove to be informative and help you decide the best one for your business, according to your industry and the requirements you are looking for.